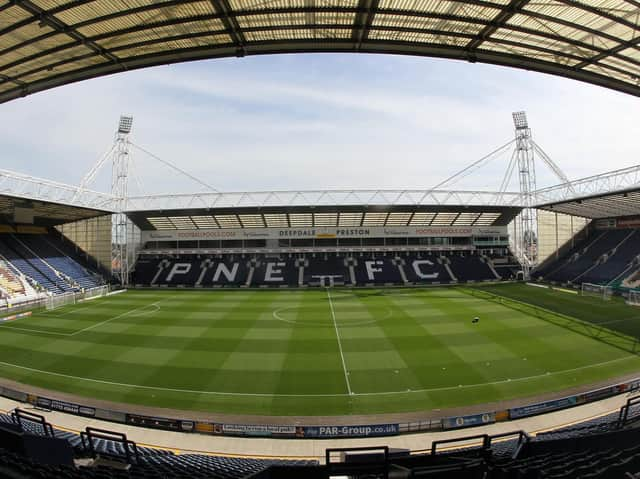 Preston North End's Deepdale ground
The governing body remain determined to conclude the season behind closed doors when safe to do so, but it is estimated that this could take 56 days.
With the nationwide lockdown continuing, it therefore seems certain that the campaign will have to continue into July, which could leave clubs without the services of many of their players.
The EFL has suggested three options that could avert the potential crisis.
They are proposing that clubs have until June 23rd to:
Offer a new playing contract
Offer an extension to the current contract that will expire on the midnight of the final day of the season
Tell the player that they will not be offered either of the above. These players will be released on June 30th 2020 and free to join another club. However, the EFL is proposing that they will not be eligible for their new club until the start of a new campaign.
That would mean that players who don't sign new contracts will be left without a club, potentially for months.
Crucially, the EFL is proposing to push back the date in which clubs will be able to approach players regarding a free transfer.
As it stands, that date is the third Saturday in May, but the EFL are proposing that this be pushed back to the June 23rd date.
In the event of players under the age of 24, the EFL is proposing a fourth option to ensure that clubs would still be entitled to vital compensation in the event that their talented prospects move on.
They propose that clubs have until four days after the last day of the season (or June 23rd if that date comes earlier) to offer a deal on 'no less favourable terms'.
If a new deal or short-term extension is not agreed, the EFL propose they could enter into a week-by-week or conditional contract.
North End have six players out of contract at the end of June as it stands - Paul Gallagher, Tom Clarke, Mathew Hudson, Michael Crowe, Connor Simpson and Kevin O'Connor.
A number of EFL clubs are of the view that players due to be released could continue to play through July as they will receive a severance payment for that month.
The EFL have told clubs they do not object to this in principle but want further dialogue with clubs.