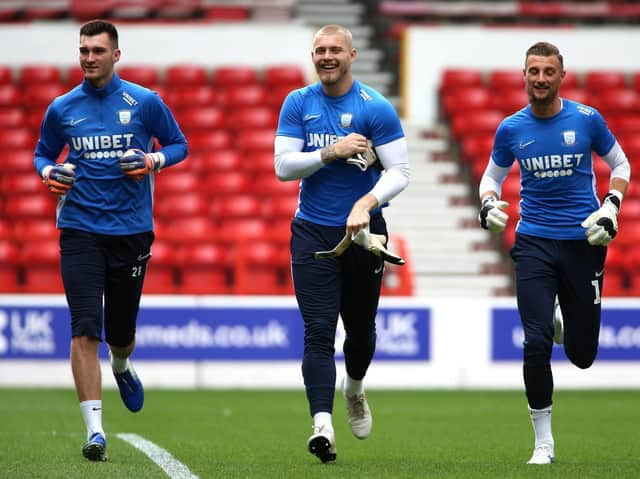 The three PNE goalkeepers - Mathew Hudson, Connor Ripley and Declan Rudd
Mathew Hudson's new deal announced this week followed that of Declan Rudd doing likewise in April.
With those two extending their stays and Michael Crowe having left – Crowe wasn't offered new terms so wasn't required to return to training – the goalkeeping position looks to have sorted itself out.
Connor Ripley is under contract until summer 2022, so three keepers are in situ for the foreseeable future.
Preston keeper Mathew Hudson in the warm-up at Stoke in February
Rudd has very firmly established himself as No.1 at Deepdale, with competition and cover from Ripley and Hudson.
Perhaps Hudson's new deal surprised some people, on the basis that his single appearance in North End's first-team came four-and-a-half years ago.
It was some debut at the age of 17, summoned from the bench against Leeds at Elland Road when Jordan Pickford was sent-off.
I think I'm right in recalling that it was only the second time Hudson had been among the substitutes due to Chris Kirkland being unavailable.
Mathew Hudson ahead of PNE's pre-season friendly at Bamber Bridge last summer
Hudson is now 21 and turns 22 at the end of next month.
A loan spell at Bury in the first half of the 2018/19 season put four further appearances on his CV, although nowhere near the number PNE had hoped when sending him there.
It might look like Hudson had stood still but as the lad said himself in an interview he's been gaining experience of being in the first-team environment for the best part of five years now.
It is probably a touch harsh to count back to his debut and note the lack of PNE games since.
That appearance at Leeds came exceedingly early in his career, not too many keepers play in the Championship at the age of 17.
Maybe it set the bar high for him and fans expected him to push on quicker than he naturally would have done.
Time remains on his side, with goalkeepers maturing later and playing longer than many outfield players.
As a keeper, you could argue that Hudson now is at the stage where a 19-year-old outfield player might find himself – training with the first-team but on the fringes of the squad.
What he needs now is a run of games somewhere, just to experience that feeling of playing every Saturday and some midweeks too.
However, loaning him out would leave a gap at Preston.
What is handy about Hudson is that he is a homegrown player having come through the academy.
Teams are required by the EFL to have a homegrown player in their matchday squad.
Ben Davies being in the team has covered that one, so too will Josh Earl next season.
But when Davies wasn't available through injury earlier in the season, Hudson got a place on the bench to tick that particular box.
That would be something to consider if North End were minded to loan him out in 2020/21.
Now of course getting promotion to the Premier League would steer a course past that particular issue!
PNE are now just a week away from resuming their Championship play-off push.
It is more than three months since they last kicked a ball in competitive action and the return will be most welcome.
Obviously it will be a whole new ball game to what we are used to – no crowds, a safety protocol followed to the letter, a bubble-like environment thrown around the players.
The empty grounds will be a reminder of the need to get the season done and dusted, consign it to history as quickly as possible and look forward to the next one.
With regards to 2020/21, a start date around the middle of September has been proposed.
But if we are still at the behind closed doors stage then, would it not be better to nudge it further on?
At some stage next season I presume crowds will return, perhaps with lower capacities at grounds.
If that is to happen later in the year or early in 2021, a slightly later start to the season would see less games having to be played in front of empty stadiums.
It might mean a big squeeze on the fixture list but the Championship clubs have agreed to play nine games in 33 days to get this season finished.
Nothing quite so packed would be needed next season, just some common sense and a bit of compromise.
Let's not jump ahead of ourselves here, playing this season to a finish in the priority.
It will be interesting to see whether the form book goes out of the window when the games resume.
Players' skill levels aren't going to have dropped but match sharpness might be an issue early on, as will how quickly they adapt to the new environment.
Behind closed doors will be a new experience for myself in covering the remainder of the season.
I've covered reserve games and youth team games but they have always had some kind of crowd there.
When North End fielded a team in the reserves league, it might only have been a couple of hundred of fans at Deepdale or whichever ground they used.
But the fact is they were paying spectators and created an atmosphere, even if it was only polite applause or mild criticism.
The FA Youth Cup games have always been well supported, so that is no comparison there. We are entering a new era but hopefully only a short one.