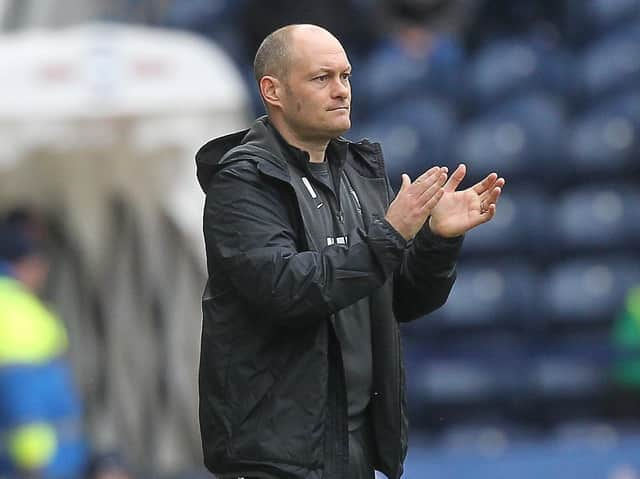 Alex Neil has enjoyed the January transfer window
Even Alex Neil, in the past a passionate hater of the twice a year trading system, is enjoying himself.
The Lilywhites squad has been given a fresh look and the makeover is not finished yet, with potential for more business before Monday's 11pm cut-off.
Some of it is voluntary, partly North End have had their arm twisted by the contract situation.
By hook or by crook though, by the time the window closes the squad will have a much different look to how it was on January 1.
To think, this is the same PNE who in the summer/autumn window and last January's window, did a grand total of two incoming transfers.
An old friend was welcomed back on Thursday when Greg Cunningham signed on loan for the rest of the season.
In July 2018 we had waved the left-back off when he went to Cardiff City for a Premier League adventure, in return for £4m.
It didn't work out for the Irishman in Wales and when he relocated himself in East Lancashire with Blackburn for a loan last season, he had the most rotten of luck when he damaged his cruciate.
When Cunningham went to Blackburn in August 2019, some North End fans questioned why an attempt hadn't been made to bring him back.
Eighteen months later, they have their man and hopefully he can pick up where he left off.
Cunningham had been one of PNE's top performing left-backs for many a year and it was a big blow to see him leave two-and-a-half years ago.
He returns with a few more miles on the clock but bubbling with enthusiasm about the next few months.
Cunningham has a contract to play for. His deal with Cardiff ends in the summer so he will be wanting to put himself in the shop window.
If he does well, we can expect North End to be at the front of the queue.
With any returning player, there will be a note of caution struck.
'Never go back' is a phrase heard in all walks of life, not just football.
PNE have had their fingers burnt in that respect with David Nugent.
His second coming has been a disaster, with no sight or sound of him since the summer.
I would reason that the returns of Cunningham and Nugent are in completely different circumstances.
Nugent's departure and return were 12 years apart.
The striker was 22 when he left, 34 when he came back – still recovering from a knee operation which delayed him playing for two months.
It was a nostalgia trip almost, back to the good times under Billy Davies.
Cunningham returns two-and-a-half-years after leaving, he turns 30 on Sunday.
Granted it's been a tough couple of years but there's plenty ahead of him.
There was a real sparkle about him, a deep sense of determination to do well when he spoke after doing the deal.
It wasn't just PNE who were in for Cunningham, Saturday's opponents Sheffield Wednesday had their eyes on him.
No wonder. He's a very good left-back, one who likes to get forward and join in with the attack.
North End boss Neil had referenced him many times since he left when talking about players he'd needed to replace in the last few years.
He was mentioned in the same breath as Jordan Hugill and Callum Robinson.
Had Preston been in a position to get him back before now, you sensed Neil would have jumped at that opportunity.
Neil has another leader in the dressing room, a more senior figure to help guide the younger players along.
He will compete with Andrew Hughes for the left-back position, Hughes bought as his replacement in the summer of 2018.
It means Josh Earl going out on loan for a third time to gather more experience.
Cunningham's arrival and the other incomings are being balanced out with departures, both permanent and loans.
It is sad saying goodbye to Ben Pearson and Darnell Fisher, so too Ben Davies further down the line.
'No Pearo, no party' was the phrase, you just hope that Ben Whiteman and Jayson Molumby prove strong replacements – with first impressions positive.
Also it is an opportunity for Ryan Ledson to continue establishing himself and shake off any notion of him being Pearson's understudy.
Pearson now takes his party down to the south coast to Bournemouth.
Is that really the big move which not that long ago was anticipated for him?
The Cherries being in the top six and benefiting from parachute money, have a good chance of reclaiming their Premier League place at the first attempt.
Pearson could well be gracing the top flight next season but there's nothing guaranteed.
North End supporters took Pearson to their hearts and it will seem strange not seeing him about.
His ankle injury and then being overlooked once he decided his future was elsewhere, meant it's almost been a drip-fed departure.
When we look back on the winter 2021 window, I doubt any other club will have been busier than North End.
Premier League clubs have been exceptionally quiet through January due to Covid and the new Brexit regulations.
Things might gather pace over the weekend and into Monday but nowhere near the extent it normally does.
It might mean a quiet old night before the deadline for Jim White.
When the window shuts we will be able to assess North End's January dealings in detail.
But it's certainly not been a dull month as the squad gets its new look.