Dave Seddon's PNE Press View column - Could the overseas transfer market benefit North End?
As the UK begins to exit the EU could this be the time when Preston North End think about going the other way and reaching out to Europe to explore the transfer market on the Continent.
Saturday, 1st February 2020, 6:00 am
Updated
Saturday, 1st February 2020, 10:30 am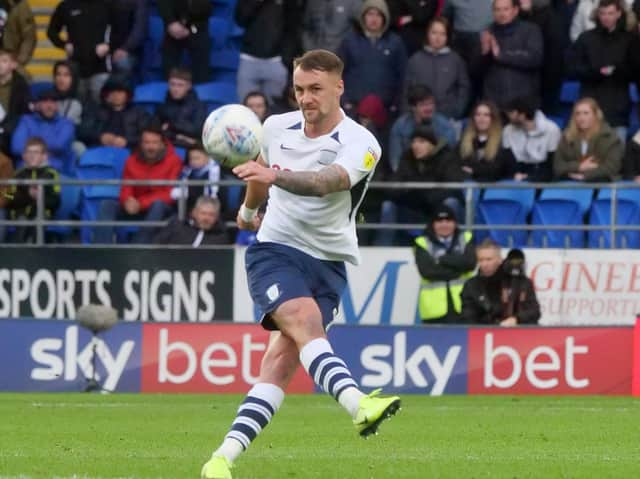 Preston North End's German defender Patrick Bauer
It has been a while since the Lilywhites shopped abroad but it might be worth a look as prices for domestic players spiral.
They have done so in the past with varying degrees of success, going well beyond the shores of Europe.
During his reign, David Moyes did some business in France with Eric Skora and Farid Diaf springing to mind.
Ricardo Fuller was a hugely popular player with the Preston supporters
Foreign trial players were a common feature of reserve games as Moyes ran the rule over those seeking a club.
He took United States international Brian McBride on loan from the MLS.
Moyes' successor Craig Brown looked further afield, Ricardo Fuller recruited from Jamaican football.
Mind you, Fuller had previously been on loan in Scotland, where Brown first became aware of him.
Danish striker Simon Makienok was the last player Preston recruited from overseas
Claude Davis and Omar Daley beat the same path from the Caribbean as Fuller, Davis going on to make North End a decent profit when he moved to Sheffield United.
Eddie Lewis and George Koumantarakis were two others to come from overseas.
USA winger Lewis had been playing for Fulham but Koumantarakis was found through agents and contacts.
Not that Big George was a resounding success. However, he did a job at times.
Foreign recruitment has slowed over the years – it was done a couple of times in Phil Brown's time in charge.
Under Simon Grayson's watch, Danish striker Simon Makienok came in on loan from Sicilian club Palermo. He had spent the previous season on loan at Charlton Athletic.
It was the Addicks where Patrick Bauer – North End's Big Friendly German – had resided for four seasons before heading this way last summer on a Bosman.
An astute signing Bauer has turned out, bringing ability and experience to the heart of the back four.
With PNE shopping with a limited budget compared to others in the Championship, exploring other markets might be worth considering.
They don't have to scour the world, there's no need to tap into the Azerbaijan Third Division or trek to Peru.
But hop over the Channel into mainland Europe and there could be talent to uncover.
North End have said that they prefer the domestic market because they can more accurately judge what they are getting.
That's fair enough and some of their recruitment in recent years has been very good, with Jordan Hugill, Callum Robinson and Greg Cunningham, netting them big profits when sold on.
However, part of the domestic pond is getting particularly hard to fish in.
Strikers who are capable of getting into double figures at Championship level have price tags of several million.
Look at Hugill for example, North End sold him for £9.5m two years ago.
During Thursday's press conference, Alex Neil got on the topic of strikers.
He pointed to league leaders Leeds signing Jean-Kévin Augustin from German club Leipzig on loan with a view to a permanent move in the summer.
Nottingham Forest too had shopped abroad for Nuno da Costa from Strasbourg.
Those were the two examples he used, but he gave a nod as well to Nakki Wells' move to Bristol City from Burnley which involved decent money.
I'm not suggesting much of North End's recruiting suddenly has to be done abroad but it's worth having a look.
Admittedly, starting from scratch wouldn't be easy, with scouts and contacts needing to be put in place.
North End did that well in the Republic of Ireland, able to get first pick on some of the better players to emerge in the last few seasons.
They do seem to have moved on from Ireland but it shows what contacts and having an ear to the ground can unearth.
Moving subject, and Gentry Day – in terms of choosing it – seems to have become almost as thorny an issue as transfer dealings for the North End faithful.
Brentford has been chosen as this year's annual act of remembrance, that seems popular with some fans but not others. I do think the London trips sit well with the spirit of Gentry Day and the reasons behind it coming into being back in 2005.
The first one was at QPR, the next at Charlton, with Brentford used twice before and Fulham visited too.
Alan Ball Snr first tagged PNE fans as The Gentry in honour of the distances they were prepared to travel for away games – he was stood at Shrewsbury on a Tuesday night when he commented.
I can see the argument for Gentry Day being closer to home for travel reasons and allowing more fans to go.
However, options were limited. Huddersfield seemed a favourite but the away allocation isn't as big as it once was.
Sheffield Wednesday was an option but their pricing is pretty steep.
Gentry Day 2012 was held there and Aaron Brown played up front - we are all still recovering!