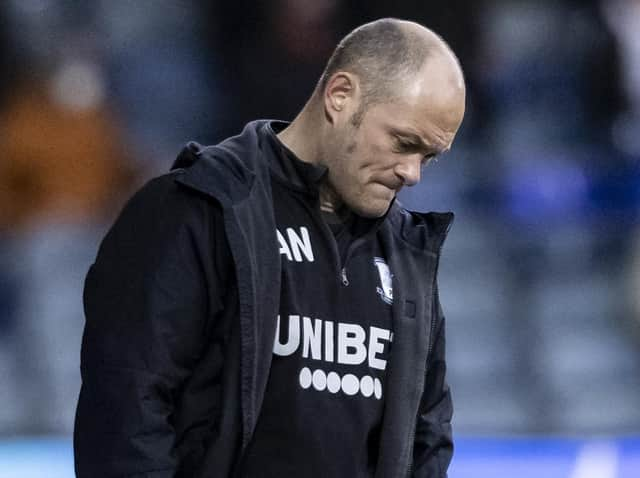 Alex Neil look dejected as his Preston team lose 3-0 at Luton
The focus is now trained on tomorrow game against Barnsley at Oakwell but that's not to say the 3-0 reverse to the Hatters has been swept under the carpet.
Neil felt it was up there with the poorest display from his team as PNE manager in terms of being out fought and lacking competitiveness.
"It was really disappointing and as a group – I'm not talking solely about the players – me and the players have got to have a good hard look at ourselves," said Neil.
"We know that wasn't good enough by a long way and we have to put it right.
"What was frustrating is that it wasn't too dissimilar to playing Middlesbrough and we beat them 3-0 a few days before.
"Luton didn't bring the ball out and go build, build, build and rotate.
"They turned it up to James Collins, he looked after it, they worked round him and got the ball into wide areas. They just did better than us.
"For the first goal we got done, we gave the ball away too cheaply.
"It's then a movement off the back shoulder, honesty that is frightening.
"For the second it was a set play, we didn't defend the box well enough in the second phase. They returned the ball and Collins scores with the header.
"The third one was a spoor as you are likely to see.
"A 40-yard ball forward, we didn't sort our feet out, we got chopped on the edge of the box and Collins bangs one in the bottom corner."
Neil put forward no excuses for defeat, the first away game this season when PNE have failed to score.
"We were extremely poor and the better team won," said Neil.
"Transition, players being out, all that rest of that, it had nothing to do with what happened. We are not looking for excuses, it was really poor."
Neil made five subs by the hour mark, the first four tactical but the fifth which saw Tom Bayliss replace Brad Potts was down to an injury.
"Brad just felt his calf tighten up, it didn't feel quite right and unfortunately he had to come off," said Neil.
Meanwhile, North End are looking to bring in a new chief scout to cover the departure of Joe Savage.
It was announced on Friday that Savage is leaving to take up a new job in January, with the Scottish media reporting Hearts as his destination.
Savage had the title of head of recruitment/chief scout but whoever comes in will focus on organising the scouting side of things. Negotiations will continue to be handled by Peter Ridsdale.