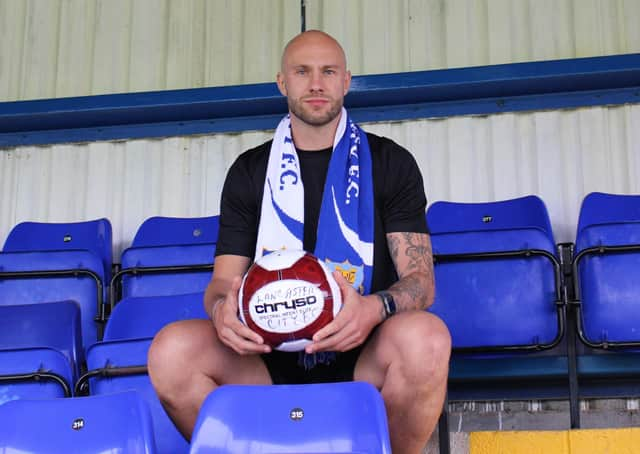 Andy Teague
It's nine long years since Teague left the Dolly Blues to join Lancashire neighbours Chorley.
But he has returned to Giant Axe after severing ties with the Magpies and signing on the dotted line for City at the weekend.
Now aged 34, Teague looks a little different and has a few less hairs on top compared to the fresh-faced youngster who enjoyed a three-year spell at City from 2008 to 2011.
Although he may appear a little more battle hardened physically, he believes he still has plenty to offer on the pitch for his new club.
Indeed the experience of captaining Chorley to three promotions – a rise from the NPL First Division North to the National League – should prove handy as City target winning a place in the National League North next season.
"I had a lot more hair back then," said Teague. "I am actually trying to find a picture of myself from my Lancaster days – I can't seem to find one. It's that long ago." Back then Teague wore the Dolly Blues shirt with pride and he is looking forward to doing so once more.
He admitted it was a massive wrench to leave Chorley but the pull of returning to the club where his non-league adventure started 12 years ago was too good to turn down.
The strapping defender revealed that he had always mentioned to Dolly Blues legend, the late Neil Marshall, that he would one day return.
The pair played alongside each other at the heart of City's defence and remained close friends until Marshall tragically passed away from cancer.
"I always said to Marshy that one day I would come back," said Teague.
"I promised him that I would return to Giant Axe and I'm really thrilled that I will be pulling on the shirt again.
"It was a massive decision to leave Chorley.
"I had a discussion with the manager Jamie Vermiglio.
"It was probably just the right time to leave the club.
"The manger at Lancaster Mark Fell had been ringing me up.
"He was very keen to have me here and once I had spoken to him – my decision was made."
n Teague's unfinished business – Page 54