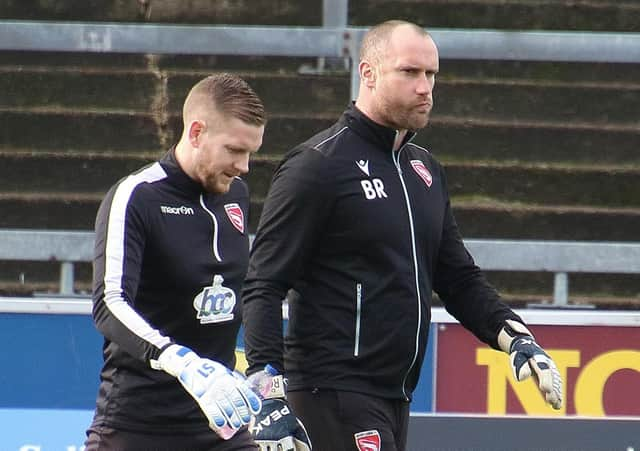 Barry Roche has been Morecambe's goalkeeping coach since late last year
With football in shutdown because of the coronavirus pandemic, the 38-year-old has been home schooling his young family – and it has been something of an eye-opener.
"It makes you have so much admiration for teachers!" he joked.
"With the situation we're all in, I've found myself watching an awful lot of YouTube videos on goalkeeping drills and finding out how other keepers work.
"It's a way of helping me see what I can add to my sessions, to freshen things up when we do eventually go back – whenever that may be – and it will add things to my repertoire which is crucial; you don't want to be doing the same things day in day out."
The restrictions placed on outdoor activity has perhaps hit keepers harder than their outfield team-mates.
While they can at least still kick a ball, in contrast, those players who operate between the posts need someone, by definition, to send shots or headers at them.
So, in common, with players up and down the land, fitness drills remain their priority.
Not least in Halstead's case as he'd undergone a hip operation in March which was due to keep him out of action for three months.
Roche admitted: "To be honest, there isn't really an awful lot we can do.
"Mark has obviously been unable to do anything and, from what I gather, Chris (Mafoumbi) lives in an apartment.
"When it comes to goalkeeping stuff, you do need to have that space on your own property – and it isn't as if you can go to a park with a mate with the social distancing rules in place."
If there is anything resembling a positive to come from the pandemic, it has given Halstead a chance to recover from his operation without missing games.
Depending on the speed of that recovery, as well as the date of any return to action in League Two, he could be back challenging for a starting spot.
"This season had been over for Mark," Roche said.
"If it does get back then I don't know how close he would be to returning.
"It does give him a chance to really focus on his rehab and he will have his work programmes from Chris Squirrell (strength and conditioning coach) and Farny (Simon Farnworth, club physio).
"Those programmes are great for all the players, they keep them in shape for when we do eventually come back."