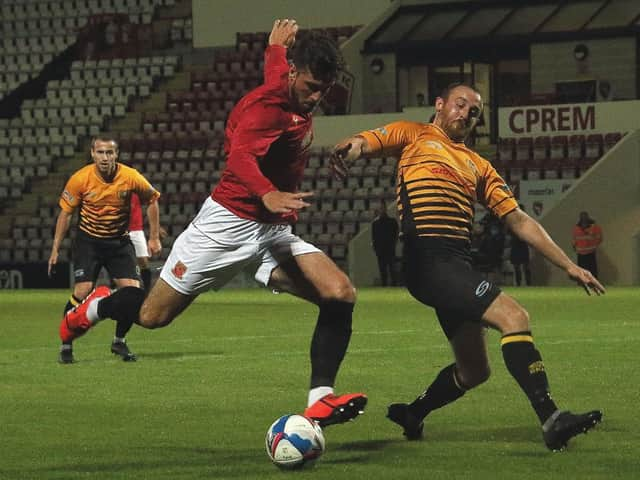 Cole Stockton was bundled over for the penalty which gave Morecambe victory
The Shrimps made it three wins from four in League Two so far this season, seeing off Port Vale 1-0 at the Mazuma Stadium.
Although the visitors had two-thirds of the possession, Adam Phillips' second-half penalty was enough to lift Adams' players into second place in the embryonic table.
"We're obviously delighted with the performance," the manager said afterwards.
"The game plan was to stop (Luke) Joyce getting on the ball and that's what we did.
"We stopped them having any real pressure and allowed their two centre-halves to get on the ball.
"We knew then we would win the ball back. We were very compact and that allowed us to play on the counter-attack.
"As we keep on saying, possession doesn't win you football matches, goals do, and we allowed Port Vale to have possession inside their own half.
"I couldn't care less about teams having possession in their own half, people will know that, it's all about getting that three points."
A blustery wind and driving rain meant the match would always be gritty rather than pretty.
Chances were at a premium with Devante Rodney and Leon Legge drawing relatively routine saves out of Shrimps' shot-stopper Jake Turner.
At the other end, Cole Stockton fired narrowly wide in the first half, while Phillips was thwarted by Vale keeper Scott Brown with the best move of the game after the break.
That move showed the Shrimps' ability to counter at pace with Carlos Mendes-Gomes, Stockton and Aaron Wildig all involved before Phillips was denied.
Adams said: "We've got important players that need to be quick on the counter-attack, we need to have midfield players who can run forward.
"The ball needs to stick up top, that's why Cole Stockton is there because he holds it up for a period of time for us to get up there.
"We scored the penalty with a good bit of play, we probably could have gone ahead before that.
"The goalkeeper made a great save but at the end of the day it's about getting the three points and moving on."