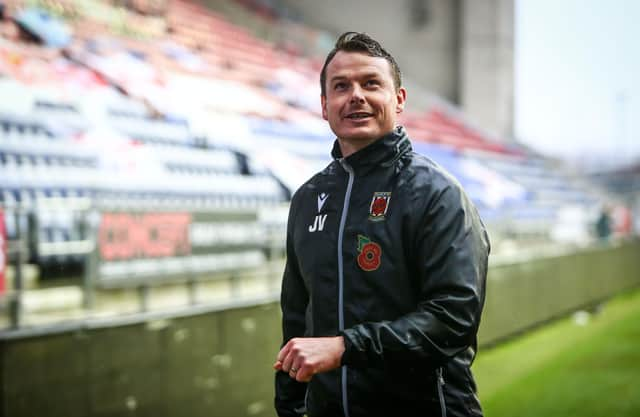 Chorley boss Jamie Vermiglio (photo: Stefan Willougby)
The Magpies travel to League One high-flyers Peterborough United on Saturday in the second round of the FA Cup.
It will be an opportunity for the non-league club to win through to the third round for the first time ever.
But Posh begin the match – which kicks off at 5.30pm and will be screened live on BT Sport – as huge favourites, especially as they sit second in League One while Chorley are towards the bottom of the National League North.
However, Magpies boss Jamie Vermiglio will not be setting his team up to just defend and contain their higher-league opponents. He wants to see his men express themselves and try to put the hosts under the cosh if possible.
"It does my head in when I see FA Cup ties and the teams who are the underdogs don't really show what they are about," he said.
"They just sit in and then end up conceding and then conceding again.
"My mindset is not to do that. Sometimes as a manager you can't help but see the game evolve in front of you and it might be that we are sitting in quite a bit.
"But we are certainly going to try to start the game well and put them under a little bit of pressure early on and see how they cope with that.
"It's all well and good, though, me telling people what we are going to do – you just don't know how the game is going to evolve.
"You just don't know what is going to happen. A free-kick, corner, throw-in can just change the tempo and fluidity of the game.
"Our game plan is to start the game well, test them and see how it goes.
"If they start to see a lot of the ball, start to get through us then we will re-adjust. We will have plan A, B and C."
The carrot dangling in front of the winners is a place in the third-round draw and a chance to be paired with a Premier League giant – and Vermiglio admits it is tough not to think too far ahead.
"Our concentration is 100% on Peterborough," he said. "But you can't help but dream about if you did get through what that would be like.
"Just imagining waiting for the ball with your number on to be pulled out of the hat and see who we get.
"We are only humans and we do dream."