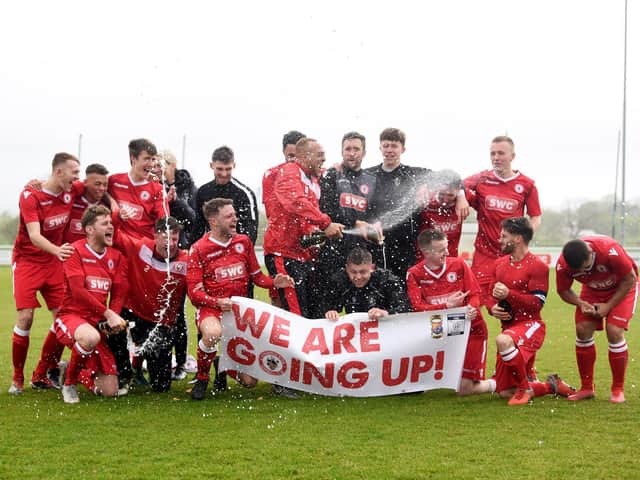 Longridge Town celebrate title success last year
The former Preston North End man is closing in on six years as manager at the Mike Riding Ground after similar positions with Kendal Town and Northwich Victoria.
In that time, the club has collected the West Lancashire League Premier Division and North West Counties League First Division North titles on its way into the NWCFL's top flight.
There could have been a third promotion in the offing, only for the 2019/20 Premier Division campaign to be ended early as a result of the coronavirus pandemic.
At that time, Town sat sixth in the table with a six-point gap to the promotion places but with games in hand.
Instead of any lingering disappointment at missing out on a hat-trick of promotions, Ashcroft instead chose to reflect on the club's journey in the last half-dozen years.
He said: "When I first took over, I remember meeting the old chairman Brian (Parkinson) in the clubhouse.
"There was nothing around the club then but it's become a proper football club.
"The floodlights are up, the dugouts look good, we've put another stand up so we've got an exciting set-up and it's becoming a nice place to be."
In addition to their league exploits, the 2019/20 season had also seen Town reach the fifth round of the FA Vase with those players verbally agreeing to be back with the club next season.
The only difficulty there is that no-one knows exactly when the new season will start given the coronavirus crisis.
Ashcroft explained: "It's usually the first Saturday in August (August 1 this year) but I very much doubt we'll start then.
"We don't know if we're allowed to have anything in terms of pre-season friendlies because there are one or two of those that have been lined up.
"Until someone says otherwise then we don't know what we can do."