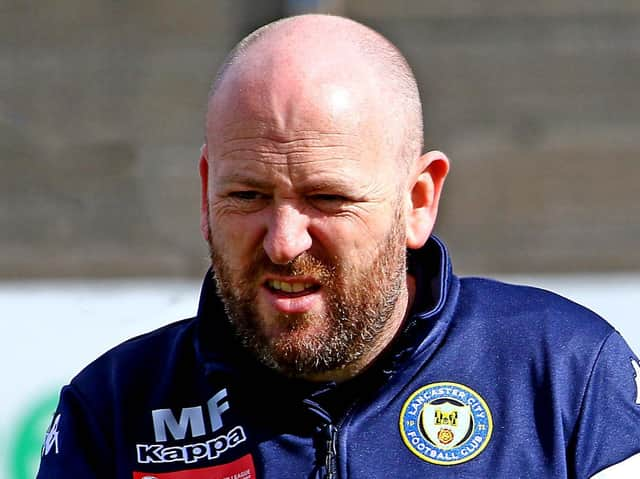 Mark Fell
The Dolly Blues missed out on a great opportunity to reach the third round of the competition when they were shocked 2-1 by Skelmersdale United.
Skem hail from the North West Counties League, two divisions below City in the football pyramid.
As well as missing out much-needed prize money which the FA Cup can generate, Fell was frustrated to see Skem pull out Longridge Town – another step five club – in the next round.
That would have handed the Dolly Blues a potential route to the final qualifying round where they would be just 90 minutes away from reaching the first round proper.
As it is, their FA Cup dream died on Saturday on Skem's wind and rain-swept plastic pitch, where the Covid-19 pandemic meant they had to get changed in a gazebo at the side of the pitch.
"We let ourselves down on Saturday," said Fell. "We've let the people at the club, the supporters down too.
"We created probably about 20 to 25 chances – 10 of them which were good ones – and we've only scored one.
"We equalised and then we've gone a bit gung-ho, thinking that we will knock a few in against them and effectively we've left the back door open.
"They've caught us on the break and then to be fair, they have then smothered the game.
"We just didn't have the answers to get back into it.
"But I am really gutted about the defeat. I hope the players are too.
"With the way the draw has gone as well, we would have had three step-five clubs to get to the final qualifying round and one game away from reaching the first round proper.
"We will probably never get a chance like that again – to progress in the most prestigious cup competition.
"It also hurts us because financially there was an opportunity to put some money in the coffers which what we need at this moment."
Another concern for Fell is that City have still to register their first win of the season from open play.
Their victory over Runcorn Town in the first qualifying round came via a penalty shootout after a 0-0 draw, and in the league they have picked up just two points after drawing two and losing one of their opening three fixtures.
Fell has urged his men to show a bit more quality and composure in front of goal, starting with the visit of Gainsborough Trinity to Giant Axe this weekend.
"Our work rate is fine," said Fell. "We have data on the players; GPS pods – they are working as hard as what they were doing last year.
"So there is no issue with regards to workrate at all.
"There might be an issue with quality at times – not necessarily when we are on the ball but how we have defended. We have given some soft goals away and then at the other end, we have lacked that killer instinct to put the ball in the back of the net."
Fell revealed that veteran central defender Glenn Steel is having a scan on his knee on Saturday to determine the extent of the damage.
The 37-year-old was substituted the previous game against Morpeth Town and Fell is expecting the worst.
"Glenn will have a scan and I propose that it's not going to be good," said Fell.
"The fact that he still hasn't been weight bearing this week is a concern and the suggestion is that it is a knee ligament injury. Whether it's the dreaded ACL or it could be something a little less severe but either way I think he's looking at an operation.
"We need to be aware that he's 37 years old and we need to look at what that is going to mean; what the recovery is going to look like.
"Glenn's looking like he's going to be long-term and we are going to have a look at what that means for us in terms of maybe looking to strengthen in that area."
Luke Higham will be suspended for this weekend's game after his sending off against Skem while Rhys Turner (hamstring) will be missing and is likely to be on the sidelines for six weeks.
Gainsborough have won two out of three so far this season and are fourth in the table.
"They are a strong and pacy team," said Fell. "They have two quick strikers and one who is very experienced so it will be interesting to see what blend they will go with.
"They generally play with a diamond formation so are tough to break down, but if we are at our best then I don't think it really matters what the opposition do."