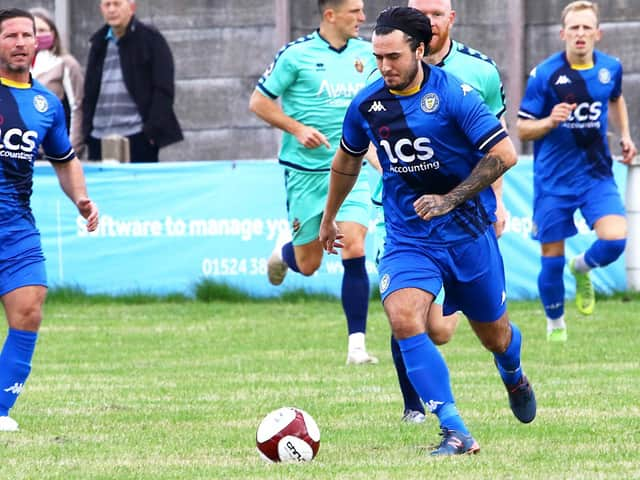 Rhys Turner (photo: Tony North)
The Dolly Blues manager was left frustrated earlier this month when the NPL Premier Division season was temporarily suspended due to the Covid-19 pandemic.
The break in the campaign came at a time when his men were just beginning to work up a head of steam after a mediocre start.
But if there is one silver lining to come out of the enforced lay-off is that some members of his squad will be nearing full fitness and are likely to be available to Fell when the season resumed.
The City boss believes it will be unlikely the season will re-start straight away once the the lockdown comes to an end on December 2.
Instead, he is estimating the season will resume at the start of 2021, allowing injured stars such as Glenn Steel and Rhys Turner extra time to return to full fitness.
Steel is currently struggling with a knee problem while Turner has been sidelined with hamstring strain.
"Glenn won't be back in a month," said Fell. "We won't see him this side of Christmas.
"But I suppose all this will give him an incentive I suppose to up his rehabilitation and try to get back to fitness a little bit sooner.
"We have really missed Rhys in terms of he gives us a different point of attack.
"We haven't seen too much of him this season but what we do know is that he is going to be a good player for us.
"He's had this little hamstring problem which is part of a bigger hamstring problem which he has had for a lot of his career.
"But the injury he has now, we are not at that stage of worry – it's not a recurrence of the injuries which stopped him in his professional career.
"They are just little niggles which we have to help him through but he will be back."
One player who will benefit from the break is veteran striker Matty Blinkhorn, who has been playing through a niggling injury.
"Blinks just needs a rest because he's at that age, and has played a lot of football," said Fell.