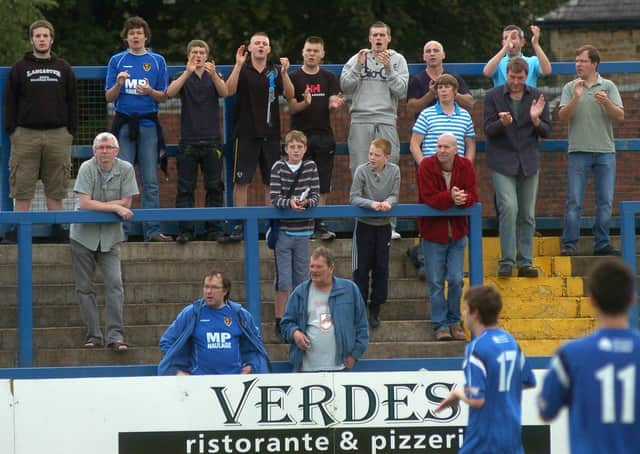 Lancaster City fans
The Government this week gave the go-ahead for non-league clubs at steps three and below to allow supporters into grounds, with the NPL Premier Division season set to kick off on September 19.
The news has been welcomed by Dolly Blues boss Mark Fell who has long been an advocate of opening the gates of Giant Axe to spectators.
He is of the firm belief that most non-league grounds are big enough to cope with crowds whilst implementing social distancing measures to combat the spread of coronavirus.
Fans will need to abide by social distancing rules, and spectator groups must be restricted to "six-person gathering limits".
And organisers of events which are likely to attract a crowd will need to put forward a "named person or persons with responsibility for ensuring adherence with these guidelines".
City have already conducted a Covid-19 risk assessment on their ground and Fell said being able to let supporters back in is good for the team and the club's finances.
"The news is a big boost for everybody," said Fell. "The biggest concern I had was that the start of the season was going to be put back again. That would effectively mean we would have wasted time in pre-season.
"I think what the news does is make the start date a little bit more concrete and we can get on with pre-season.
"I always said there is no reason why the supporters can't be let back in the ground. We as a club are prepared for it to make it happen so the fans can come back in safely."
City will now begin to ramp up their pre-season preparation, starting this weekend.
Having given the squad last weekend off, Fell will be giving run-outs to every member of his squad on Saturday when they travel to Colne, followed by a trip to Padiham on Tuesday.
"Colne will be a good test for us," he said. "Their preparations have been ramped up a little bit more than us because they play in the FA Cup two weeks before we do, so they might be a little bit fitter than us. But we like to think we will get two positive results from the two games."