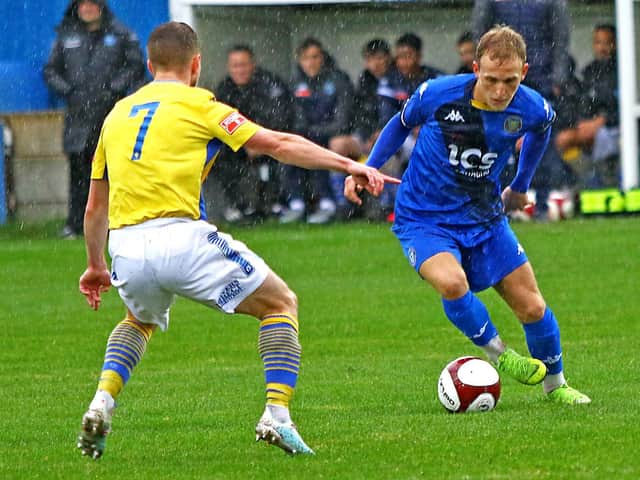 Lancaster City ace Charlie Bailey
The Dolly Blues boss is getting to work on his preparations for the new NPL Premier Division campaign which is scheduled to begin on August 14, subject to the Covid-19 pandemic.
Having held positive discussions with his existing squad, Fell has turned his attentions to potential new signings.
He would like to bring in a left-sided defender, another striker and a goalkeeper who can provide competition for regular No.1 Sam Ashton.
"I think we are going to need a defender or two," said Fell.
"Certainly we need some left-sided balance because we have not had that for a long time.
"We have been using Charlie Bailey as a left wing- back for 18 months, but Charlie's not a wing-back.
"He has done magnificently for me playing in that position, but we really we would like to release Charlie a little higher up the pitch.
"We want him to be in the positions that he was in when he was a young player at Morecambe – he's a No.10, second forward-type player.
"Ideally if I can get some left-sided balance, either a centre-half or wing-back then that would give us chance to get Charlie a little further up the pitch which we are keen to do.
"Potentially some of the older players in our squad are a little bit non-committal at this moment with regards to whether they may play or not next season.
"If they do play, they will be playing for us but I need to balance that out and bolster areas which we were quite thin on last season.
"It may mean I will be in the market for another centre-forward – we needed another centre-forward when we brought in Matty Hughes last season.
"Those two areas are where we definitely need to strengthen and also I would like to bring another goalkeeper in because we need to give Sam Ashton some competition.
"We have had young Max Povey but if I can get another goalkeeper who has experience of this level – then we let them fight it out
"That's how it should be in terms of competition
"I will never turn down anyone if they are better than what we have already got and it fits within our wage structure, then it's my job to try to bring those players to the club."