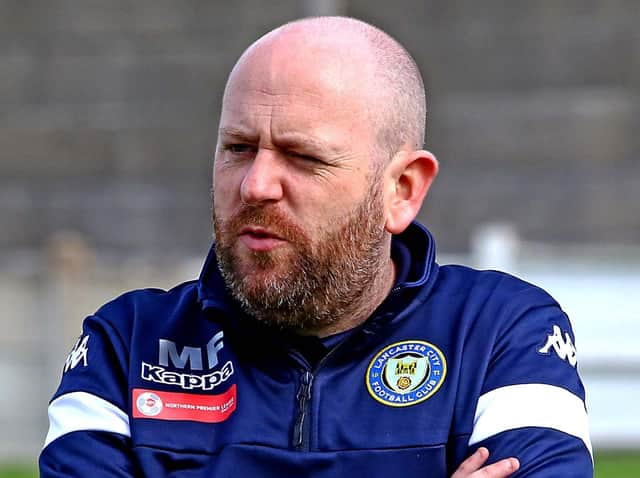 Lancaster boss Mark Fell (photo: Tony North)
If the Dolly Blues do not play a rearranged game this weekend, then they are set to resume their campaign on Tuesday when they travel to Radcliffe and that will be followed by a trip to derby rivals Bamber Bridge on Boxing Day.
With the uncertain nature of this season and the possibility that it may not be played to a conclusion, Fell said he and his men will take it one game at a time.
He said: "This season is very random – there probably won't be another one like it.
"Clubs may look at it as an opportunity to take advantage because it's outside of the norm.
"But I don't think we can have much of an expectation.
"The only expectation we can have is to try to do better than we did last season.
"We finished inside the play-offs before last season was halted and if we were to do that again this season then that would be a success."
City have been back in training for more than a week and they took part in a friendly against Ashton Athletic at Giant Axe on Tuesday night.
Goals from Rhys Turner (2) and Tom Kilifin contributed to a 3-0 win in what was an excellent workout.
"It certainly served a purpose for us," said Fell, who has bolstered his squad with the acquisition of Matty Hughes on dual registration from Chester, but loan ace Jacob Hollan-Wilkinson has returned to Preston .
"The lads' fitness levels were good. They've kept fit during lockdown and looked sharp. Obviously some are ahead of others because players are human and that's the nature of things so they will have a little bit more fitness work to do.
"But I said to the lads on Tuesday night, we have got a very good squad of 20-odd players. My job now is to find the right blend , but we have got a nice mixture.
"We can put a team out that is full of pace and power, but we also have the other side where we have got guile and quality on the ball.
"It's getting the balance right now and that will dictate how well we do. But it was just nice to play on Tuesday night.
"We had some of our fans in to watch us. Everybody has been so starved of football, that we are all just desperate to get going."