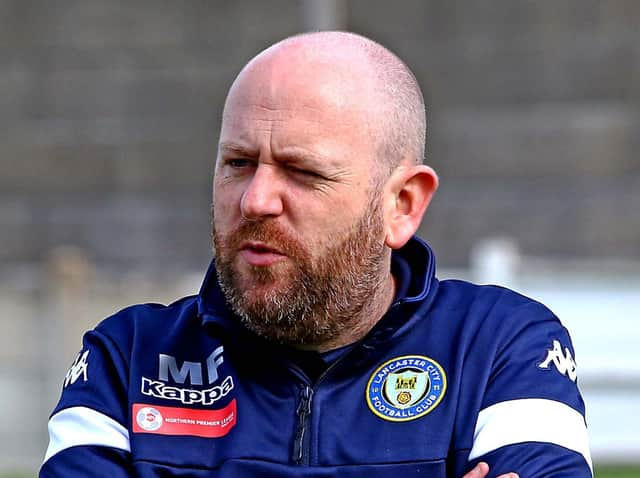 Lancaster boss Mark Fell
That is the view of Lancaster City boss Mark Fell, who expects the division to be split into two when players finally get back on the grass.
The Government's announcement at the weekend means all sport which is not played at elite level will be suspended for a month. That includes the playing of games and training.
The Dolly Blues – who drew 1-1 at Hyde United on Tuesday night – were due to host Radcliffe Borough at Giant Axe this weekend.
That game has technically been put back until December 2 at the earliest, but Fell insisted it is unlikely any player will be ready to go straight back into action after spending a month indoors.
He believes a more sensible option would be to start the season on the first day of next year and split the division.
That would allow clubs the chance to stage a mini pre-season to help their players reach the necessary fitness levels to be ready for games.
"I think the biggest thing is the unknown," said Fell. "We have no idea what is going to happen.
"We should restart against Radcliffe on December 5 but I just don't think that is going to be possible. I just can't see us having four weeks off, then having one training session and then playing Radcliffe.
"I would be amazed if that is allowed to be the case.
"There are a lot of rumours out there about how the league will be restructured.
"I have heard rumours about regional leagues, the division being split into two, a January 1 start, a December 5 start, a February start.
"You can get addicted to the information and trying to work out when we are going to restart.
"I think the sensible thing to do would be to split the division into two and have two divisions of 11 all playing 20 games.
"You would promote the top of each division and start on January 1."
Lancaster play in a division which is one step below the National League North, which is considered to be elite status.
Those clubs are able to continue playing behind closed doors through the national lockdown thanks to a Government grant.
Fell admits he would have liked to have seen some money drip down the pyramid which would have enabled the Dolly Blues to continue their season.
"I know the division above – the National League North – the clubs are getting a £30,000 per month government bailout.
"I know the big clubs in our league – South Shields, Scarborough, FC United – they are banging the drum about how they are not getting any support.
"They are saying that they can massive crowds but it's not just about them.
"It's about the level of football. We need the same level of support that they need.
"Just because they get bigger crowds does not mean they have a right to have more than what we have.
"We've still got bills to pay, wages to pay, a ground to upkeep.
"There's a little bit of snobbery on their part. We are all in the same boat and it is frustrating that the league above gets this financial assistance and we don't .
"They will say that we were allowed to have fans come into the ground but we were limited to 200 because we have been capped by the local council.
"We are below what our average gate would be and that's enforced. We don't get any additional support like the clubs above are getting."