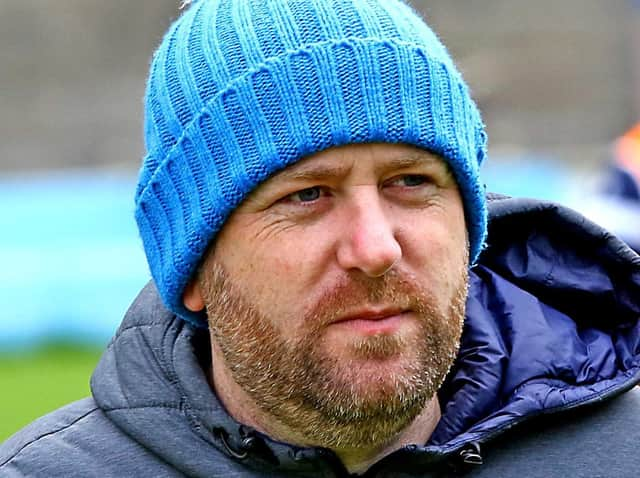 Lancaster boss Mark Fell
The Dolly Blues secured a well-earned 1-1 draw at Broadhurst Park but their tactics came in for a certain amount of criticism from their opponents.
The Red Rebels' gripes certainly had no effect on Fell, who was pleased to see his side take a point from one of the teams expected to be challenging near the top of the NPL Premier Division.
"I thought Tuesday night was a good game actually," said Fell.
"It was a contrast in styles I suppose. I know we have taken a bit of stick from FC United.
"They have shown a little bit of a lack of class but they have done that before.
"They don't like it when someone comes and does a job on them.
"I was told that our style was rudimental, but our rudimental style created double the amount of chances that their side created so I will take it as a compliment. I thought we were very good value for 1-1, we had the best chance of the game in the 94th minute when Niall Cowperthwaite has had two shots cleared off the line."
The battling point followed a superb 4-2 win over Grantham Town on Saturday – which saw City register their first three points of the season after a tricky opening month of the campaign.
"I thought we were absolutely brilliant on Saturday," said Fell. "We were subjected to the most laughable sending-off after 20 minutes but I thought we were as good with 10 as we were with 11.
"Grantham are quite an expensively assembled side but we looked much more as unit, more cohesive.
"These past couple of results are just what we have needed.
"In the second half last night I felt a little bit more reassured about our identity and what we are about.
"We were back to doing the things which served us well last season."
Fell will be hoping his men can continue that sort of form when they welcome leaders Warrington Town to Giant Axe this weekend.
The Wire are three points clear at the top of the table after a fine start to the season.
However, recently they have begun to show that they are not invincible. On Tuesday night they drew 2-2 with Nantwich Town, while earlier this month they were beaten 3-2 by Mickleover Sports.
"Warrington have started the season well, but they lost to Mickleover and drew with Nantwich thanks to a last minute goal," said Fell.
"There will be no fear from us. We know they are a team which we go in amongst and get a result.
"After the last two results, we go into the game with a bit of vigour and a bit confidence.
"I think if you look at this league and the way it's gone over the first month of the season, it is absolutely anybody's.
"Teams are beating each other, there's loads of draws – it's a bit like the Championship. If we can go on a bit of run now of four or five wins, we will be right up there."
Paul Dawson is missing this weekend due to suspension and Matty Blinkhorn continues to nurse a minor injury. Rhys Turner could return to training this evening after a hamstring problem.