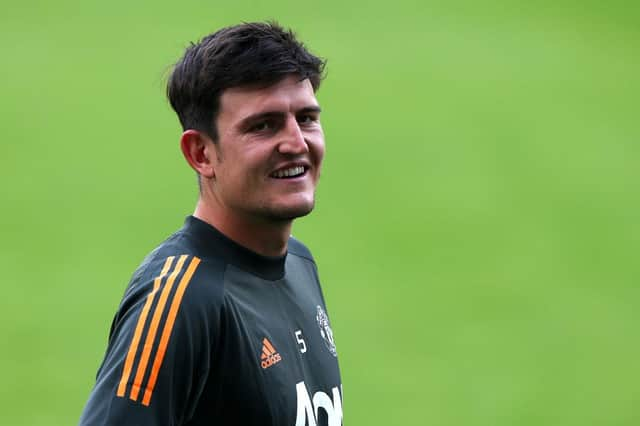 Harry Maguire pictured at training prior to Manchester United's Europa League semi-final with Sevilla (Getty Images)
Harry Maguire has been dropped from Gareth Southgate's England side after he was found guilty of assaulting a police officer, swearing, resisting arrest and bribery while on holiday the Greek island of Mykonos.
The 27-year-old was initially selected by Southgate on Tuesday afternoon but was dropped hours later after he was found guilty.
Maguire is the world's most expensive defender following his £80million move from Leicester to Old Trafford last summer.
Maguire was one of three Englishmen arrested by Greek police on Thursday night.
The head of the press office for the Hellenic Police's South Aegean region said there had been an altercation and an exchange of words with the police, and that the three men would appear before a prosecutor on the island of Syros later on Friday.
Maguire, brother Joe and friend Christopher Sharman have all been accused of repeated bodily harm and violence against public employees. Both Maguires are also accused of bribery, while Harry and Sharman are accused of insult. A Greek police officer also alleged that Maguire shouted "F*** the Greek civilisation".
All three men deny all charges.
Harry Maguire's lawyer, Alexis Anagnostakis, says that the incident stems from Maguire's sister Daisy being injected with a substance by a group and fainting.
They asked to be taken to a hospital but were instead taken to a police station.
Maguire was found guilty on August 25 and was issued with a 21-month suspended sentence, a sentence which Maguire has vowed to appeal against.
United players had been taking time off after their Europa League exertions earlier this month.
The club were eliminated by Spanish side Sevilla last Sunday. The Europa League finaltook place in Germany on Friday night.
In his first season at Old Trafford Maguire was an ever-present in the Premier League, scoring one goal.
The player was one of the Premier League captains who drew praise for his involvement in the #PlayersTogether initiative, which helped raise funds for the NHS during the coronavirus pandemic.