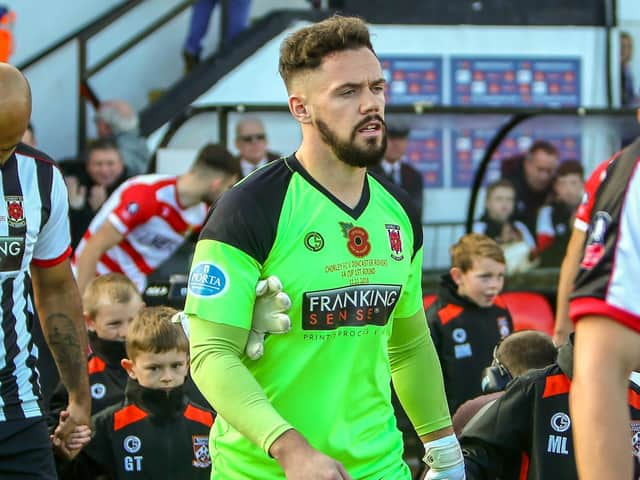 Chorley goalkeeper Matty Urwin
The Magpies host the Rams at Victory Park in the third round of the competition tomorrow.
It will be the first occasion that the club has reached this stage of the cup in their history and on paper they head into the clash against the Championship outfit as massive underdogs.
However, the Magpies have shown previously this season that they are not afraid of clubs with big reputations.
In the first round they fought back from 2-0 down to beat 2013 cup winners Wigan Athletic at the DW Stadium and then went on to beat League One high-flyers Peterborough United 2-1 in the second round at London Road.
The chances of the Magpies making more progress appear to have been improved by the news that Rams manager Wayne Rooney and his entire first-team squad are unlikely to make the trip north after a Covid-19 outbreak at Pride Park.
Jamie Vermiglio's men are likely to come up against a Rams side containing members of their youth squads, but Urwin has told his team-mates to ignore what is happening in the opposition camp and enter into tomorrow's encounter with the same determination and fearless mindset which has got them so far.
Urwin said: "I think the most impressive thing about the last two rounds is I look back on both games and think we deserved to win them.
"Especially in the Peterborough game, we had so many chances to score – we missed a penalty, hit the woodwork. I think both performances are testimony to how hard the lads have been working this season.
"It's not like we have gone to these two teams and scraped by and we've been holding on. I think we have been the better team in both encounters and that should stand us in good stead when we play Derby.
"I think it also shows how much planning and preparation has gone into it from our management team, the boss Jamie Vermiglio and his assistant Andy Preece."
In terms of preparing to face a weakened Derby, the best laid plans have had to be thrown out of the window bearing in mind County's Covid-19 woes and Urwin admitted he and his team-mates have had to adjust this week.
"We have just got to prepare for Derby the best we can," he said.
"We'll have to adjust if it means they have to play Under-23s players. We will have to give them the respect they deserve and adjust to the way they play.
"It's going to be a different tie than we would have expected, but the quality of players which Derby have in their Under-23s squad will still be of a very high level."