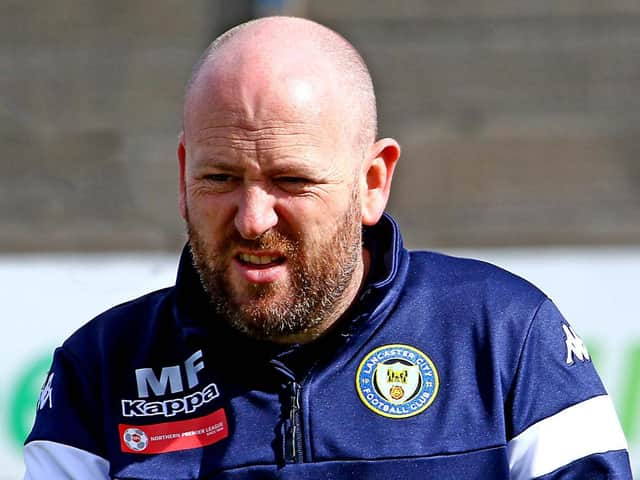 Lancaster manager Mark Fell (photo:Tony North)
The squad have been back in training over the past week or so, despite the fact that the 2021/22 NPL Premier Division campaign does not begin until August 14.
Normally, the season in non-league would be coming to a close this weekend, with the players looking forward to a nice summer break.
However, this past year has certainly been out of the ordinary with the Covid-19 pandemic disrupting the past two campaigns.
The last kick of this season happened in November and it was officially cancelled in March.
It means by the time next season comes around, City's players will have gone almost a year without kicking a competitive ball.
Some clubs in non-league have begun playing friendly matches now that some of the restrictions have been lifted but City boss Mark Fell has decided that is a plan
of action he is not going to follow.
His plan is to get the players together training a few times so that they will be in decent shape for the start of pre-season and a full list of summer friendlies, including hopefully the long-awaited LFA Challenge Trophy final against Prestwich Heys.
"The lads came in on Tuesday" said Fell. "I have been resistant to them coming in to train before all this.
"I know some clubs at our level and at steps four, five and six have been playing games regularly.
"I didn't want to do that. I just didn't see the point in doing that – you could potentially burn them out.
"I wanted to try to keep things as normal as I can.
"But we wanted to do a bit of an assessment with the lads and so we had them coming in for a little bit of a light session.
"Also just to see the players as well.
"You have to remember that they are all friends and they haven't seen each socially in a long time.
"So we had them coming in this week and then we will probably have them in again next month and the emphasis will be on having a bit of fun.
"It is a reminder of what we've all been missing I suppose, and then we will start pre-season on June 17.
"Our preparations are now well under way for the start of next season."