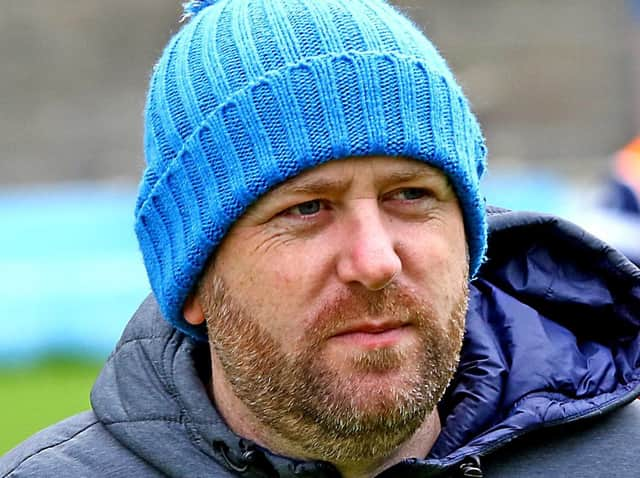 Lancaster boss Mark Fell
The football season at non-elite level has been placed in cold storage for at least a month after the government introduced new restrictions to deal with an upsurge in coronavirus cases.
The Dolly Blues – who play in the NPL Premier Division which is one step below elite level – have not kicked a ball in anger since drawing 1-1 away Hyde United on November 3.
The earliest the season can reconvene is December 5, but a number of non-league managers, including Fell, have questioned whether it would be safe to expect players to return straight back into action without a period of acclimatisation.
But with an enormous fixture backlog, there are question marks as to how the season could possibly reach a conclusion in its present format.
Fell has suggested a mini-pre-season before restarting in January, with the division to be split into two.
Whatever happens, the manager insisted his club will be ready for what the future holds.
As it stands, City are scheduled to face Radcliffe away from home on Saturday, December 5 before welcoming Witton Albion to Giant Axe the following Tuesday.
He said: "I am a teacher by trade and we talk to pupils about resilience in life and the resilience of young people.
"I do think the resilience of humanity is a little bit low at the moment but instead of moaning about things, I would rather we got our heads down, worked hard and found solutions.
"I would rather us as a football club – and this is what we are doing – getting our heads down and getting on with things.
"We will react to what we can control and how we can then effect things.
"Everything which is happening is a distraction and I don't want to get away from football, performance and being able to put out a team which can win games of football.
"I am concerned about when we will start again, if we will start again and how it will look.
"The goalposts are moving all the time but we have got to be able to react quickly and we are doing that."
"We are in a position where we can move quickly and I think the football clubs who can manage this situation the best – and we are in the unknown – who will be the most successful."