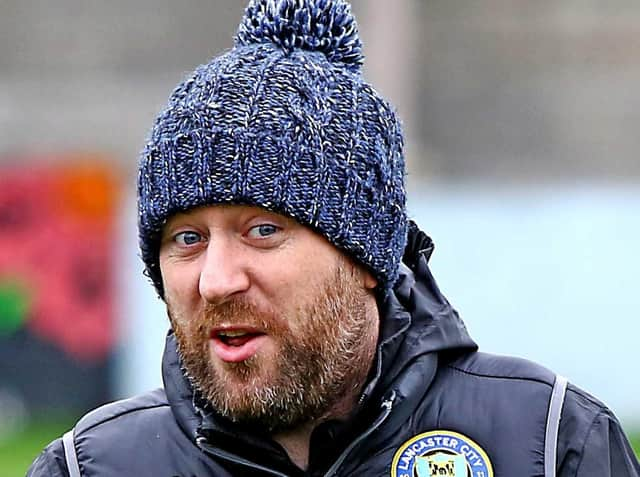 Lancaster boss Mark Fell (photo: Stefan Willoughby)
The Dolly Blues are braced for the current NPL Premier Division campaign to be declared null and void.
Having only played seven games in the league before the season was brought to a halt at the beginning of November there seems little likelihood that it is going to reconvene now, especially with the National League – the level above the Northern Premier League – set to scrap the 2020/21 season.
But if you thought that was the cue for Fell to start thinking ahead, then you would be mistaken.
The Covid-19 pandemic has changed the whole landscape of non-league football and Fell said he faced some big talks with his chairman Stuart Houghton and the rest of the Board before he can start formulating a squad for the 2021/22 campaign.
"We are turning our eyes towards next season, we are planning ahead but fairly slowly really," said Fell.
"It's a slow burner because what I will need to do is sit down with the club. I will need to talk to the chairman and the Board and see what position we are actually in – where we will be in terms of budgets and infrastructure, what our aims and objectives are for next season – then I will be engaging the players in talks.
"It will have to be all done in chronological order, but we are certainly not in a position for that yet.
"There are lots of other things to consider at the moment before we even get to that."
Having not kicked a ball in anger for four months, Fell revealed he has been eager to maintain lines of communication with his players to keep tabs on their wellbeing more than anything else.
"I am not going to re-engage players about playing again," said Fell.
"I did that last year around March when last season was declared null and void and it ended up being far too early.
"I am obviously speaking to players but that's more to do with their wellbeing – how they are getting on, making sure they are okay personally."
The future of the National League is set to become clearer in the coming days or weeks.
Clubs – who are in dispute over the level of funding required to sustain them – have up until the end of this month to vote on four resolutions which could see the current season terminated.