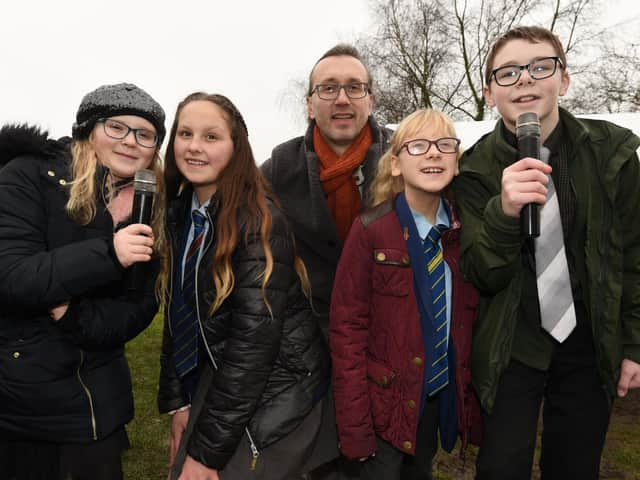 Andrew Kesiak with members of the Soul Children choir group
Originally born in the even colder climes of Norway in Oslo in 2001, the Soul Children movement has evolved into an international affair. Started by Ragnhild Hiis Ånestad out of a desire to bring the youth of Norway together, the choir movement is tailored for kids with a focus on music - be it R&B, pop, rock, soul, or gospel - with positive lyrics.
Over 200 branches soon sprang up over Norway with an international presence soon following. Now stretching to Sweden, Denmark and Germany as well as India, Cuba, and Chile, Soul Children has gone big.
And now it's in Buckshaw Village, too.
Soul Children performing.
Brought to the North West by long-term Buckshaw Village resident and musical aficionado Andrew Kesiak, the local branch of Soul Children kicked off in September last year and is offering youngsters a chance to get together socially, be part of a larger movement, and - as we've seen - even sing for royalty as they provided the backdrop music for Her Royal Highness Princess Anne's arrival and departure to and from the equestrian centre.
"The experience was absolutely brilliant, both for us as choir leaders and for the children themselves - none of them had probably seen anyone from the Royal Family before so it was a serious honour - a real life experience," said Andrew, 47. "The performance went fantastically; it was cold and a bit wet, but everything was well-arranged and everyone was surprised by the energy and enthusiasm from the choir as well as the quality.
"I'm sure it will remain with the children for the rest of their lives," added Andrew, who is originally from Poland and who has lived in the North West for 14 years. "One of our singers' mums also met Princess Ann when she was younger and gave her flowers and now her daughter was able to do the same about 40 years later."
Himself a member of the Hallé Choir in Manchester, Andrew also runs music therapy classes for the elderly as well as teaching music privately. Despite the group only having been together for a matter of months and having performed in public just once before, Andrew - who runs the group alongside fellow Musical Director Tim Uffindell and Choir Leader Rachel Harris - said he was massively proud.
"For everyone to bond and be united to sing together was great," he said. "We were a choir, not a group of individuals. The focus they showed, because there was also some choreography as well, was brilliant so I couldn't be prouder of them.
"What's exciting about the Soul Children movement is its philosophy and the three pillars its centred around: high-quality music, social interaction and openness, and Christian spirituality," explained Andrew, with the group meeting every Thursday. "We want young people to experience a lifelong relationship with music and once you're a part of the Soul Children group you're part of a family.
"The hopes and expectations for this movement are huge and we really want to make an impact on children and change their lives; we want to have a real impact on children and teenagers in Buckshaw Village," he continued. "The environment should be characterised by openness, the experience of being included, and feeling confident to make sure that Soul Children is a place for building good relationships.
"Our goal is to unite children from local schools and churches in our area. We want this to be something really special."