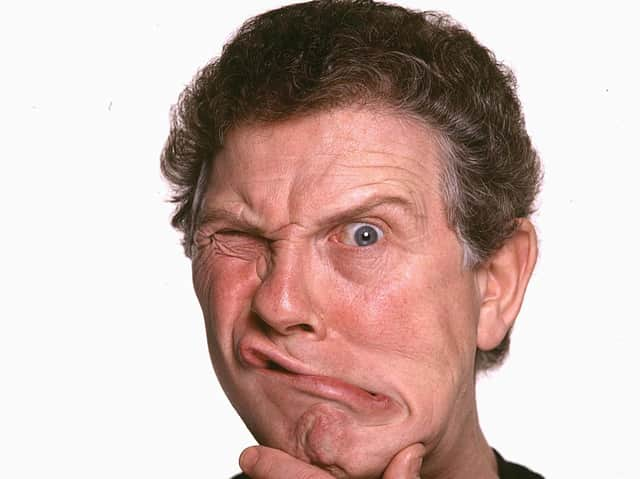 Phil Cool had the funniest face on television for much of the 1980s.
The Chorley Guardian is featuring 150 stories about Chorley: Inspirational people, places that we love, or special moments in the life of the borough.
It's a countdown to our 150th anniversary on November 4 and we're celebrating the community we're proud to be a part of.
Phil Cool, the frankly unbelievably talented impressionist was the biggest - and funniest - face on television for much of the 1980s.
The Chorley Guardian is marking its 150th birthday this year with the Chorley 150 series of stories
When a teenage Phil Martin had a huge bust-up with his electrician boss in Chorley, little did he know it would be the boost he needed to make it into show business.
The Chorley-born impressionist then became one of the most recognised faces in Britain … and he has plenty of them!
In an interview with the Chorley Guardian in 2014, Phil said: "It was quite a transition, from being an electrician to becoming a household name in the 1980s."
The comic went to St Augustine's Secondary Modern School (which later became Holy Cross).
Flashback to 1985: Phil Cool joining in a Leyland fund-raising event for Children in Need
He said of his days at St Augustine's … " it was a hell-hole of a place".
"It was awful. The only things I was ever good at were art and writing.
"My compositions used to get read out in class, but apart from that, I hated it."
He left school at 15 and worked in a cotton mill.
His mum asked a local electrician about an apprenticeship which Phil almost completed before leaving after "a big bust-up with the boss".
Phil, who has also had ties with Chorley Little Theatre, was practising his performances in Preston when he was spotted by an agent.
Then in 1984 Phil joined one of his idol's management teams - Jasper Carrot.
A producer from the BBC soon spotted him working as an audience warm up' for Spitting Image, and he joined up for the daytime TV show, Pebble Mill at One.
Phil told the Guardian "the impact was fantastic. I made such an impression on the bosses that they gave me my own pilot show".
After the big TV break, Phil was soon filling theatres and entertaining thousands with his impressions.
One career highlight included performing in front of Prince Charles and Princess Diana at the London Palladium, and for the Prince and Camilla during the Royal Variety Show.
He also went on to do two series of award-winning Cool It on BBC1.
Cool, now 73, gave up touring in 2013 because he was "sick and tired of travelling". He still lives in Lancashire.
Send in your suggestions for our stories in the next few months and let's celebrate 150 years together.
Whether its a person, a place, an event, a sporting moment, drop us a line via email [email protected]
We'd love to hear from you.
Read more from our Chorley 150 countdown: