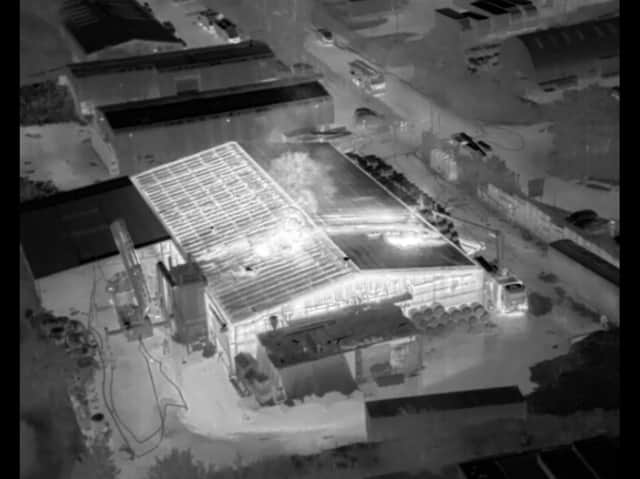 Crews battled the fire in Accrington Road overnight
Firefighters from Burnley and Nelson were called to the scene in the Rose Grove area where they found a 'significant fire' involving a commercial building approximately 40m by 20m.
Arriving at the scene shortly after midnight, crews soon were forced to call for support as the fire quickly escalated in size and ferocity.
Another five fire engines from across Lancashire responded to the call, with crews from Colne, Great Harwood, Hyndburn and Rawtenstall, as well as two aerial ladder platforms (ALP) from Hyndburn and Morecambe attending.
A high volume pump (HVP) from Burnley and the stinger appliance from Skelmersdale was also requested.
Further support has been provided with the command support unit from Blackburn and an aerial support unit also in attendance.
By 3am, around 60 firefighters were working at the scene to bring the fire under control using multiple jets.
By 4am, the fire service had managed to 'sectorise' the blaze and in addition to firefighting activity on the ground, the ALP and Stinger has been used to help fight the fire from above ground.
At 6am, a spokesman for LFRS said: "Fire crews have surrounded the fire and the incident is now being reduced to four fire engines with the stinger, one ALP and the HVP still in use too.
"Fire crews will be working to extinguish small pockets of fire as the morning progresses.
"Crews are still working to damp down hotspots however the smoke has now dissipated and earlier advice to close windows and doors for those in the Rosegrove area has now been lifted."
Lancashire Fire and Rescue Service (LFRS) is also advising motorists to take care whilst driving in the area this morning due to the smoke.