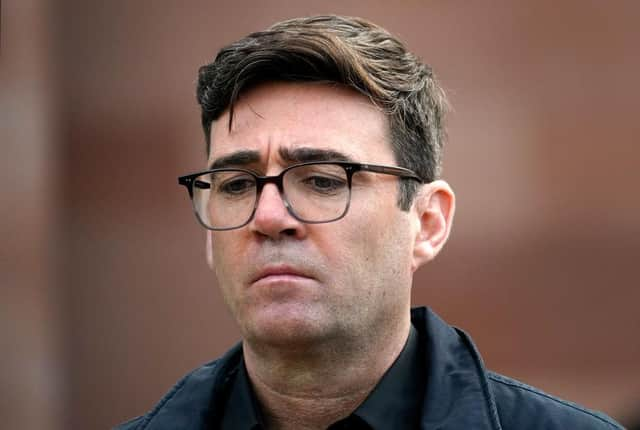 Andy Burnham has been praised by some for his handling of discussions with the UK government relating to tier 3 restrictions in Greater Manchester (Getty Images)
A bitter dispute has consumed UK politics this week with Boris Johnson's government trying and failing to agree a package of support with leaders of Greater Manchester ahead of the region being placed under tier 3 coronavirus restrictions.
Facing off against the Prime Minister's team has been Mayor of Greater Manchester, Andy Burnham, who has been hailed by some residents of the city as "the King of the North" for his dogged approach to earn Manchester what he deems a fair deal.
Once a high-flyer in the Labour Party and a contender for the title of party leader, Burnham has now emerged as a champion for the city of Manchester.
Youth and early political career
Born in Aintree in 1970, Andy Burnham was raised by a telephone engineer and receptionist on the outskirts of Warrington in the village of Culcheth.
He attended St Lewis Catholic Primary School and St Aelred's Roman Catholic High School before studying English at Fitzwilliam College at Cambridge University.
Aged 14, he joined the Labour Party, becoming a researcher for Tessa Jowell ten years later from 1994 to the 1997 general election.
Following Tony Blair's 1997 victory Burnham worked on the Football Task Force and as a parliamentary officer for the NHS Confederation before working as a special adviser to the Secretary of State for Culture, Media and Sport, Chris Smith.
Following the retirement of Lawrence Cunliffe, Andy Burnham was comfortably elected as an MP for Leigh at the 2001 general election.
He would make his way into the cabinet under Gordon Brown, serving as Secretary of State for Culture, Media and Sport, and Secretary of State for Health.
In 2009 he raised the issue of Hillsborough disaster in the House of Commons, which directly led to the launch of the second Hillsborough inquiry.
Leadership contests and Manchester mayor
Following Labour's defeat at the 2010 general election, Andy Burnham joined the Labour leadership contest, finishing fourth out of five opponents with Ed Milliband winning the contest.
Five years later he ran again, this time finishing second behind Jeremy Corbyn.
He would serve in Jeremy Corbyn's shadow cabinet before stepping down in 2017 to run for the mayoralty of Manchester.
He won the race with 63% of the vote, vowing to donate 15% of his £110,000 salary and end rough sleeping in the city by 2020.
In 2019 he acknowledged that he might not meet the 2020 target, but insisted he "could not have done more".
Clash with Boris Johnson explained
Speaking on October 14 Andy Burnham branded tier 3 restrictions "fundamentally flawed" and said "we won't accept it", later threatening legal action if the move is imposed by Whitehall despite his opposition.
A day later he would accuse the government of treating the North with "contempt" over proposed coronavirus lockdown restrictions in the area.
Mr Johnson responded, saying the Prime Minister urges leaders in Greater Manchester to "reconsider and engage constructively" over Tier 3 restrictions but says he will intervene if an agreement cannot be reached, with Foreign Secretary Dominic Raab accusing Burnham of holding "the government over a barrel".
Michael Gove would then accuse Greater Manchester leaders of "posturing" with Burnham insisting that no meeting between the government and Greater Manchester leaders had taken place.
A noon deadline on October 20 was then set by the government for local leaders to agree to measures and a financial package.
Speaking on Tuesday Mr Burnham insisted the Government "walked away" from negotiations at around 2pm and said that local leaders were not offered enough to protect people through the "punishing" winter ahead.
He said civic leaders were prepared to reduce their bid for financial support to £65 million – a figure he described as the "bare minimum to prevent a winter of real hardship".
"That is what we believe we needed to prevent poverty, to prevent hardship, to prevent homelessness. Those were the figures that we had – not what we wanted – but what we needed to prevent all of those things from happening.
He added: "In summary, at no point today were we offered enough to protect the poorest people in our communities through the punishing reality of the winter to come."
At 5pm, Mr Johnson announced Manchester will go into Tier 3 lockdown.