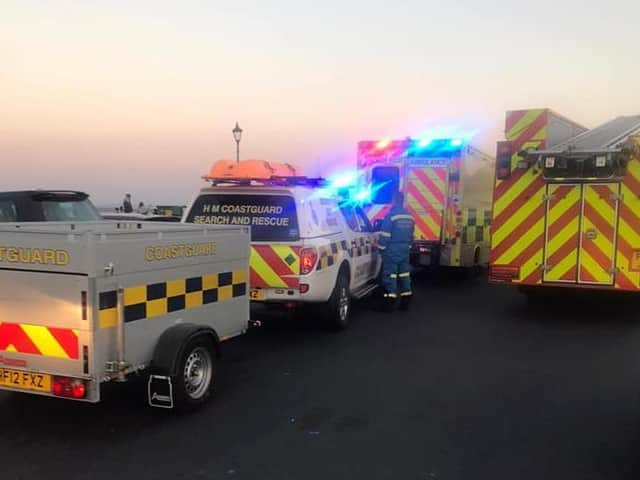 The fire service and HM Coastguard Lytham were in attendance
Coastguards and Lytham St Anne's RNLI were up against the clock to save the Preston woman who had been walking her dog along the coast yesterday.
She had become stuck in the ground having tried to avoid large groups of visitors to the seaside resort, but the tide began coming in around her legs at around 8 pm last night.
Two fire engines were called out from St Annes and Fleetwood to help rescue the woman near Central Beach along with HM Coastguard Lytham, who confirmed she was stuck 'up to her knees' against the rapidly incoming spring tide.
Lytham St Anne's RNLI rescued the casualty from the mud with a life boat before they then passed her on to the care of the North West Ambulance Service.
The firefighters were also in attendance for around 40 minutes along with Fylde Police and the Knott-End coastguard rescue team.
A spokesperson from HM Coastguard Lytham said: "When we arrived, the lady was already trapped up to her knees in mud and the water was circulating around her as the tide came in.
"If she had been there another 10 minutes, she would have drowned, so it was a life or death operation. We are equipped for mud rescue, so we worked with the RNLI who deployed a life boat to free her.
The person became stuck in mud at Central Beach
"It is rare that people die from sinking into the mud, but it is because they get stuck and then run the risk of drowning."
A spokesperson said: "At 19:58 on 24th April, two fire engines from St Annes and Fleetwood rescued a person trapped in mud near Central Beach, Lytham.
"Firefighters used inflatable walkways to return the individual to safety. They were in attendance for forty minutes."
HM Lytham Coastguards encouraged people to call 999 and ask for the coastguard if they see a coastal emergency.