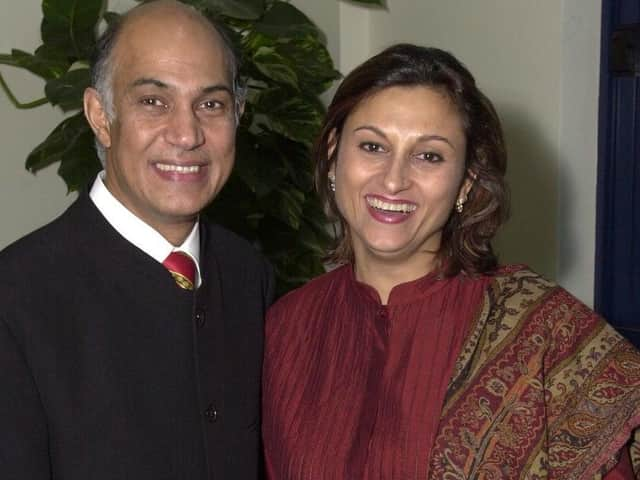 Kirit Pathak with his wife Meena
Mr Pathak, who was originally from Bolton, sold the Indian food business to Associated British Foods (ABF) in 2007 before moving to the United Arab Emirates with his wife Meena.
The 68-year-old was involved in a car crash but died in hospital on Saturday.
Tributes have now been paid to him, including mentions of his contribution to the borough's economy.
George Weston, chief executive of ABF, said: "From the Board of ABF and on behalf of the Weston family, our deepest sympathies go out to Kirit's wife, Meena, and all his family and friends at this very sad time.
"Kirit was a great man who was blessed with entrepreneurial flair, astute business acumen and a passion for authentic Indian cuisine.
"From humble beginnings he and Meena created an incredible business all built on the concept of making Indian-style meals easy and accessible for time-poor people, but what they actually did was introduce a fantastic genre of cooking into millions of homes, transforming it into a home-dining staple.
"Kirit and his family revolutionised the way we eat at home and he leaves behind a legacy that not only employs hundreds of people but is enjoyed by millions of homes worldwide every day."
Andy Mayhew, managing director of AB World Foods, added: "On behalf of everyone at AB World Foods, I would like to convey my deepest and most heartfelt sympathy to the Pathak family on the extremely sad news of Kirit Pathak's passing.
"With his energy, enthusiasm and natural business acumen, Kirit turned Patak's into one of the UK's most successful food brands, cutting through the established culinary culture of the time to bring the flavours of India to the United Kingdom and beyond.
"Under Kirit's visionary leadership, a-state-of-the-art factory was built in Leigh, from where we are still based today, employing over 350 people. He remained involved with the business as Chairman and, later, Honorary Life President of AB World Foods.
"On a personal note, Kirit has been a friend and mentor to me for over 13 years and I shall miss enormously both his good company and wise counsel. I know the shock of his loss will be keenly felt across AB World Foods and we extend our thoughts and prayers to his family at this difficult time."