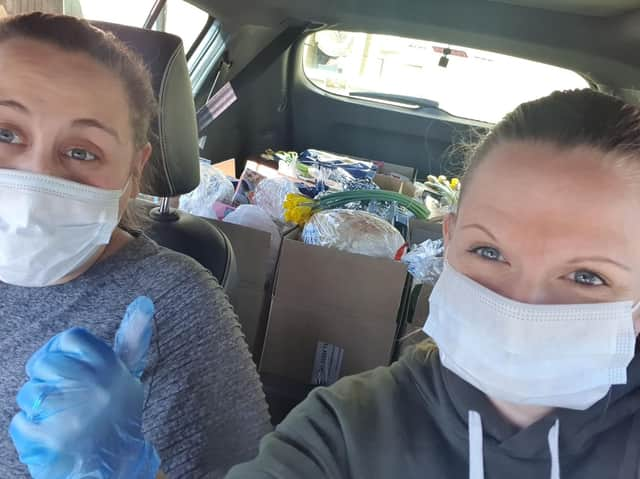 Heather, 32 and partner Caroline, 26, delivering food parcels to the community
Managers Heather Brandwood, 32 and partner Caroline Porter, 26, of the Bellflower Pub, on Parkside Lane, have kept the love for their community in their hearts by raising money to help give parcels to local families.
Their food packages aim to support families or individuals who have been made redundant, furloughed and suffering financial losses as the grip of the pandemic tightens.
"We want to provide people with free food parcels to help families get through this difficult crisis," said Heather.
Families suffering financially through the pandemic are eligible for a food parcel delivery
"We are doing this for people who have suffered a loss of earnings and for hard working people who have never had to ask for help. We found that many people felt too proud to ask for support but there is no shame in asking for help. It's what we're here for.
"Nobody saw this coming and it isn't anyone's fault. All of a sudden income has stopped for many but their cost of living has stayed the same."
Struggling families living in Garstang and the surrounding areas can contact Heather or Caroline to be delivered a food parcel containing toiletries, tinned goods, drinks, frozen food and chilled items.
The pub has set up is own appeal to help vulnerable people in the area who cannot afford to get food supplies.
A trolley of donated goods as part of their 'Dino Drive' project.
The couple have also worked on other projects in lockdown, including an easter bunny hunt which saw them deliver over 600 Easter eggs across Garstang and a 'Dino Drive', which sees the pub-managing duo dress up as dinosaurs and collect food in a trolley from local people.
As we enter the third month of the lockdown, Heather and Caroline want to continue raising awareness and thank the generous people who are donating supplies and to their Go Fund Me page.
"We have scrabbled for publicity through social media because we want to reach as many people in any way we can. It has all been funded through our amazing community, we have even had people doing sponsored runs which have raised over £1,000," said Heather.
"Fair Share in Preston and the Morrisons at Cleveleys have been amazing at donating food whenever they can. We then use the money raised from the Go Fund Me page to buy food for the parcels. We make it stretch as far as we possibly can.
The Bellflower Pub managers are collecting food packages for those in need.
"Since we began, it has been consistent and takes up seven days a week. It has been very well received by people once they realised there wasn't a catch involved. It's rare that you can actually get something for nothing nowadays."
Welfare packs of essentials are being delivered to Garstang, Cabus, Catterall, Scorton, Nateby and Forton.
Families wanting to reach out for assistance from Heather and Caroline can reach them on [email protected] or call 01995 238207.
The Go Fund Me page can be visited at gf.me/u/x3mwyc.