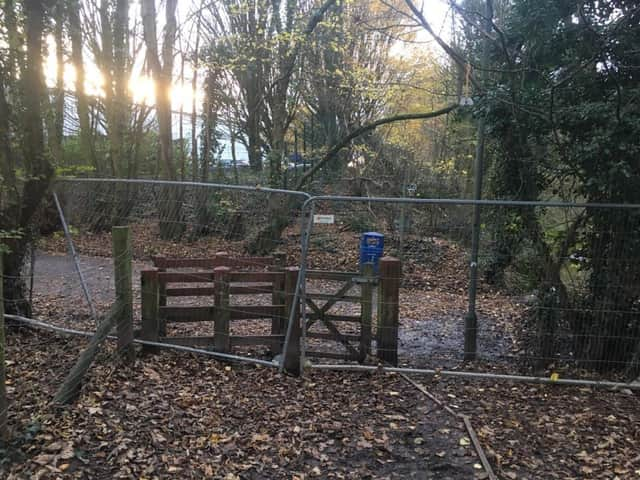 The fenced off land at Bluebell Woods in Leyland
Walkers are outraged after discovering a popular Leyland woodland has been bought and fenced off by its new owner.
Farington Woods - known locally as Bluebell Woods - at the bottom of Hall Lane is at the centre of a row over public access.
The area of woodland and open space was bought by local businessman Andy Wright who lives in the centre of Leyland.
Mr Wright says he plans to carry out further fencing off of the area - but objectors claim the land has rights of way attached to it.
Mr Wright, who is a director of the family-owned minibus company Wright Way to Travel, based in Preston, says he has no immediate plan for the area and that the current work being carried out at the site is for safety and security reasons.
But walkers are furious and are even discussing a legal challenge to the new owner.
Mr Wright put up this message on the Leyland Hub public group Facebook page: "I recently purchased part of Farington woods or Bluebell woods as some people might know it.
"I have carried out an inspection on the site and found that some trees have fallen, resting on a tree that is upright. I made the decision last week to put security fencing up to restrict public access as a result and someone took it upon themselves to remove that fencing.
"I have today, put up timber fencing across access points to the site, and will continue to put up a boundary fence along the Brook in the coming weeks.
"An assessment will then be carried out on the site as a whole and remedial work carried out where necessary. All access to that particular part if the woodland is now prohibited until further notice.
"Thank you in advance for your understanding and co-operation."
The message attracted hundreds of comments.
One person wrote: "How can you do that it's been public access forever why don't you just fell the offending tree...!"
Another commented: "God this is heartbreaking.....our green spaces are disappearing before our eyes. Used to find all sorts of quiet spots on Worden that are now rammed with prams....tragic."
Someone said: "Everything around here will be built on hence the amount of food stores. I played in these woods in 1983 and still love bluebell woods."
However there was support for Mr Wright, too.
This comment was posted: "I don't know why everyone is kicking off. I think it's nice he is keeping everyone up to date and potentially safe. And don't be mad at him for spending his money on land, be mad at those that sold it. U wouldn't want somebody walking through ur land so everyone needs to chill out. I walk my dog here and it would be nice to have it open but let the guy go about it the right way, and follow correct procedure in insurance etc"
And this person said: "Baffles me reading the comments on this post. How many self-entitled people are there around these days? If he owns the land it is absolutely his entitlement to restrict movement on it. If you want to buy your own land go ahead and do it. If not, pipe down and accept that this land is privately owned and as such the owner can do with it as he please."
Mr Wright says he is unsure what to to with the land at the moment but promised it would not be developed upon or sold off.
He says there is no public footpath through the land..
Mr Wright told the Post when asked what his plans were for the land: "I'm not entirely sure. Remedial work is going on and I'm obliged to put a fence in. That's a condition of he sale.
"It not safe for joe public just to run about the land."
He added: "There are no covenants attached. that was established early on
"It's a shame they've lost it and I understand they will feel annoyed. But it was there for anybody to buy.
"It's not going to be built or developed on.
"The land is there for me to have somewhere for me to go that's safe and fenced off with my children and the dogs so the dogs can run free."
Mr Wright said he had offered to install a bridge that connected a public footpath for folk to use.
South Ribble Council says it is looking into the issue.
Councillor Bill Evans, Cabinet Member for Planning, Regeneration and City Deal at South Ribble Council, said: "The council is aware of the concerns regarding Bluebell Wood and are currently investigating the situation and the concerns raised by residents.
"A further statement can be issued once we have considered the situation."