From Rio with love: 'Braziliant' darts star Diogo Portela on his career, fatherhood, and the World Darts Championship
When you think of Brazilian sport, you think football.You think yellow and blue kits, games on the beach, Ronaldinho's toothy grin, and Neymar's step-overs. You don't necessarily think of darts. But, having traded in the sunshine of Rio for the oche and the famous buzz of a packed-out Ally Pally, one man is out to change that.
By
Jack Marshall, Reporter
Saturday, 12th December 2020, 7:00 am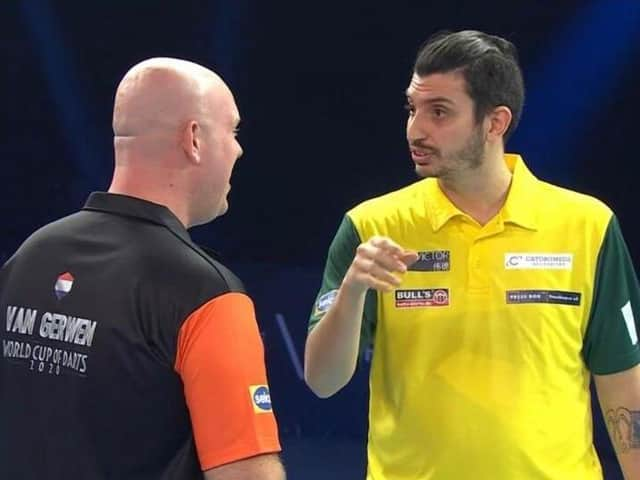 Diogo Portela (right) with world number-one Michael van Gerwen
And he lives in Buckshaw Village, Chorley.
"My father is the reason I play darts," says Diogo Portela, Brazil's number-one darts player. "He's Portuguese and, when he was younger, he worked in a pub which had a few dartboards. Because he's so competitive, he started playing and continued after he'd moved to Brazil. I started playing as well when I was 16 to spend more time with him.
"That's how I got into it."
Born in Rio de Janeiro, Diogo is a man of firsts.
In 2017 alone, he became the first Brazilian to record a win on the PDC European Tour, was part of the first Brazilian duo to represent the country at the World Cup of Darts, and made history as the first Brazilian to qualify for the World Darts Championship.
Apart from during his degree in economics and a Master's in business development, Diogo has seldom been away from the sport. And it's safe to say he inherited his dad's competitive streak.
"I practiced hard and started getting results," says Diogo, 32. "I wasn't playing against anyone who was putting pressure on me because, to be really honest, the standard of darts in Brazil isn't great - it's probably worse than a pub league in the UK - but I was still able to play well without a structure or teaching.
Diogo and Ariana's daughter, Diana
"So, I decided to see if I could represent Brazil internationally.
"I always had confidence in my talent because I'd achieved things in Brazil that had never been done before," he adds. "I realised I might have a chance of becoming a professional if I moved to the UK and played with the very best."
Diogo and his wife Ariana moved to London in 2014 and, whilst also working as a teacher, he swiftly gained recognition as one to watch on the circuit. Within just two months, he was picked for London County.
"In football, when you're playing against Brazil, you think they were born with a ball at their feet," says Diogo. "In Brazil, we think that about British people in darts, so the fact that I was winning so many games gave me a lot of confidence. I could hardly believe it - I thought I'd need time to learn, but I was straight in and I loved it."
Diogo Portela and Bruno Rangel (right), who represented Brazil at the World Cup of Darts in November
His meteoric rise continued, too. Before he knew it, Diogo was facing off against some of the sport's biggest names as part of the European Tour qualifiers for a place at the 2017 German Darts Championship.
"My first game was Andy Hamilton, a world finalist, and I was like 'wow, I'm never going to beat this guy,'" says Diogo. "But I smashed him. Then, in the final, I was losing 4-2 and I came back to win 6-4 and I was just like 'oh my god, I've actually qualified'."
At the championships in Germany, Diogo registered the first ever victory by a Brazilian on the PDC European Tour as he beat Martin Schindler and made history.
"I was confident before the game because I knew I'd beaten better players so I just had to play my game," says Diogo. "The crowd was brilliant; they got behind me which was a really proud moment, especially as I was representing Brazil at a level they'd never been at before.
"The cherry on the cake was my dad, who follows every dart I throw, flew over to surprise me. There was a lot of emotion. After the game, I went to my dad's room at about 1am because neither of us could sleep - there was just too much adrenaline, so we had a few whiskys," Diogo continues. "That's a memory I'll have forever.
"Because of darts, me and my dad have become closer: we're like best friends."
At this point, Diogo's earnings from winning darts tournaments were surpassing his salary and so, ahead of the 2017/18 World Darts Championship in December 2017, he quit his job to dedicate himself full-time to the sport he loved.
"I put four or five hours a day into practicing and saw a real improvement," says Diogo. "But before my first World Championship game I was nervous; I was playing Peter Wright, who was number two in the world, so all I was thinking is that if everything went right, it would be the biggest shock in darts. In the end, I lost 3-1 but taking a set off him was like winning the game."
Over the following couple of years, however, Diogo experienced the first major slump in his career.
"I think everything happened a little too quick for me," he explains. "I needed experience to make the next step and I was setting targets which were too high whilst making the same mistakes over and over, which was frustrating. Darts became a job, which I never wanted. I needed to be more patient."
Having moved to Buckshaw Village in 2018 when Ariana got a job in the area, the couple welcomed their 'little princess' daughter Diana into the world in June. But, having been born via emergency C-section, Diana had a stomach issue which prevented her from feeding property. At just six weeks old, she had to be taken to Manchester Children's Hospital.
"Oh my God, it was a proper nightmare," says Diogo. "Because she'd had an emergency C-section, my wife couldn't carry Diana but still needed to breastfeed and, because of Covid, only one of us could be at the hospital. She had to have surgery and then she had reflux, so it was very stressful. What with lockdown, it could not have happened at a worse time.
"To go through all the problems we had without family near by was awful," he adds. "I couldn't be at hospital with my daughter and my wife, who needed me, and so I just had to sit there wondering if my baby was going to die. Then, when she came home, she just didn't sleep and we had to survive literally on half-an-hour naps during the day.
"While it's going on, adrenaline kicks in but, looking back, it hit me that I'd reached rock bottom," explains Diogo. "But, in the last two weeks, Diana's found a routine and things have been positive. And becoming a father changes your priorities: I've had to cut back on practice but, what with the pandemic as well, I've had my eyes opened to what a beautiful life I have.
"There are more important things than darts and, when I'm on stage now, I'm thinking of a little lady who has taken over my heart."
And it's safe to say that Diana will be at the forefront of Diogo's thoughts come next Tuesday.
On the opening night of the 2020/21 William Hill World Darts Championship at Alexandra Palace, he will be playing former world champion Steve Beaton. Diogo enters the tournament as a 1000-1 underdog, but says he's not putting any pressure on himself.
"I've got nothing to lose; if it happens, it happens," he says. "I want to play against the very best and learn: I'm only 32 and there's no age in darts. That's why playing people like Michael van Gerwen is so inspiring, because he pushes the sport to the next level," Diogo adds. "And he's a really nice guy: we had kids at the same time so we're always asking how each other's children are.
"I want to challenge at the very top," Diogo says. "And I think it's a matter of when, not if."