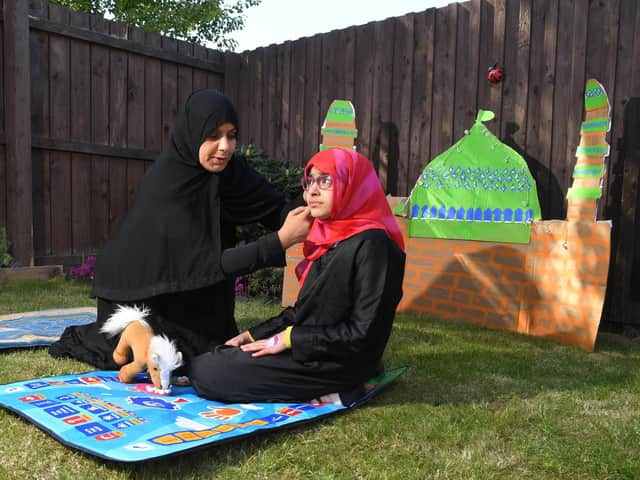 Takhsin celebrates Ramadan with her daughter Tehreem, 10.
Takhsin, an NHS nurse from Preston, has spent the holy month of Ramadan in lockdown with her daughter, Tehreem and family.
The idea of building their own Mosque from home was a way for her to "bring some normality" back into the life of her 10 year old daughter.
"My child has learning difficulties, so she has struggled much more from this situation as she cannot make sense of the world in the same way a neuro-typical child would," said Takhsin.
"The Mosque at home initiative has created a lot of fantastic conversations with other parents and people of my faith, other faiths, or no faiths who have been inspired by the feeling of being more connected.
"It has made the world a little bit smaller, a bit kinder, and a bit better."
Takhsin and her family have viewed the lockdown circumstances as a way to "explore their faith and commitment through solitude", whilst continuing with their fasting to celebrate Ramadan.
Building a mosque out of cardboard and paint meant the family were able to feel more connected to their faith from home.
With her mother currently unwell, the family were able to take the Mosque to her home for a family prayer as she may never be able to visit one again.
"With lockdown and physical distancing enforcements, many Ramadan rituals and traditions have been curtailed this year," said Takhsin.
"It has really affected me and, my daughter and my family because the communal elements of the holiday have disappeared because we have to socially and religiously isolate
"I have used the space and opportunity to actually do things differently. I think you can really enjoy what you do with your faith and I feel that it has been a really good opportunity to do that."
After sharing images of her makeshift Mosque on social media platform Twitter, Takhsin was overwhelmed by the response of over 1,000 messages from people across the globe.
"It has seen us get messages from places like the United States, Singapore, Australia and the Middle East," she said.
"Another interesting opportunity for my daughter and I has been the educational element. We have got to look at those places on the map, to learn about the countries, the people, the clothes, the food and a little bit about how coronavirus has impacted them.
"All of that has been really valuable. So, in some ways, there have been rewards that were unimaginable which have opened up to us."