Matthew Marshall and Charlotte Banner marry inside the orangery at Gibbon Bridge Hotel
Almost ten years since they first met on New Year's Eve 2009 and Charlotte Banner and Matthew Marshall are now husband and wife.
Friday, 13th December 2019, 5:00 pm
They tied the knot at Gibbon Bridge Hotel, inside the venue's beautiful orangery to shelter from the rain.
Matt, 34, a security officer, proposed while on holiday in Portugal in 2017. They were having an evening meal on the top of a cliff overlooking the beach before going for a walk, which was when Matt popped the question.
The night before the wedding, Charlotte, 30, a sport and PE teacher, stayed at the hotel with family and friends where they started to make preparations for the big day.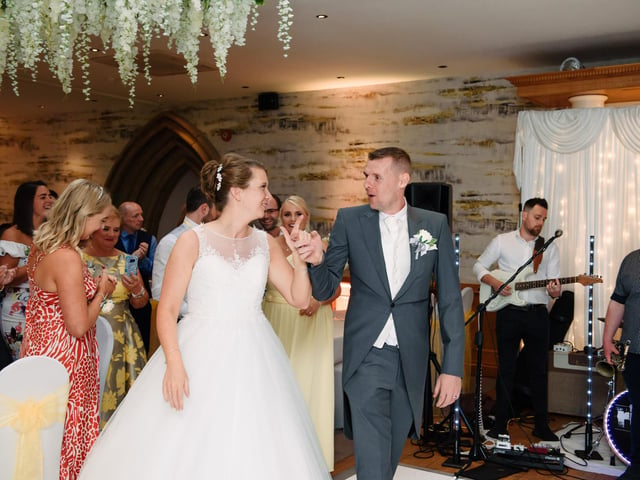 Matthew and Charlotte Marshall. Pictures: Tim Emmerton Photography
"Matt and I married in the orangery as it was raining in the morning," said Charlotte, "but this did not dampen our spirits as the venue is beautiful and like a conservatory.
"The weather brightened up soon after we had made our vows, and our family and friends enjoyed the beautiful gardens where we drank and had some lovely pictures taken.
"For our meal we had leek and potato soup, duck and sticky toffee pudding, many commented on how beautiful it was."
Entertainment was provided by The Rush and their first dance was to the Bruno Mars hit, Just The Way You Are. The couple had made up their own routine and thoroughly enjoyed every second.
Charlotte Banner and Matthew Marshall. Pictures: Tim Emmerton Photography
"The band where truly awesome and everyone partied away well into the evening, with a DJ sax set following the live band.
"The day was truly perfect and was everything we had hoped and dreamed of.
"The only negative to the whole day was it had to come to and and and we can't do it again.
"A massive thank you to Gibbon Bridge, A little bit of Sparkle and our band The Rush who had us all up dancing from the second they started.
Charlotte Banner and Matthew Marshall
"It was the best day of our lives."