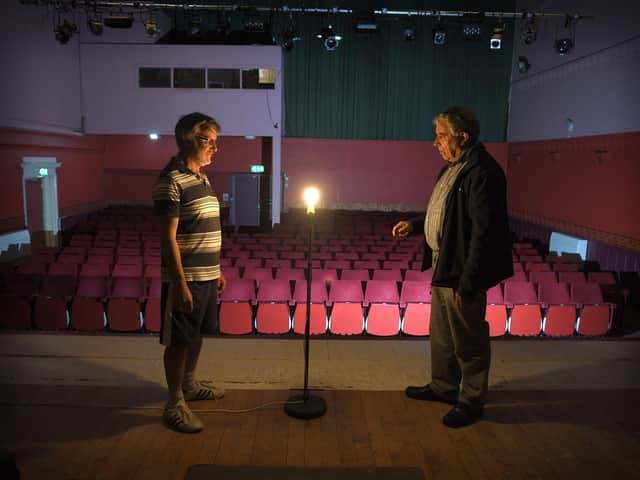 Dennis Yardley Chairman of Trustees of Preston Little Theatre and Allan Green of Preston Drama Club, with the ghost light at Preston Playhouse
It was to serve as both a small symbolic gesture and a reminder of the joy and universal laughter theatre brings to the masses.
But it is people at the heart of this industry – in front and behind the curtain – that keep it going and, with the current crisis surrounding Covid-19, both sides have been left in the dark as what the future might be.
As the light begins to glimmer for small sections of the hospitality and leisure industry here in Lancashire, there is still a script left to be written for how many of our small and mainstream venues can see the curtain rise again.
Ian Robinson at Chorley Theatre
Chairman of the trustees for Preston Playhouse, Dennis Yardley, says that, from a usual programme of fortnightly performances at the Market Street West venue, there is now little chance of a regular programme before January because of the current social distancing guidelines.
The 200-plus capacity theatre simply can not support a profitable production on drastly reduced audiences.
And Dennis said: "Like many theatres we cannot accommodate and adhere to the social distancing measures and, with the current guidance for live performances, the four amateur groups who use the Playhouse cannot rehearse and at the moment don't have anything to rehearse for.
"So for now, we have no income to manage our expenses and, of course, we are volunteer-run.
Lara Hewitt at The Palace in Longridge
"It is wait and see, unless there are any great changes in the next few months and vastly reduced social distancing. Then we could look at how and if we could handle a reopening. "We have left the light on. We will be back."
The story for directors at Chorley Theatre as they bluntly put it is they are facing "a fight for survival".
The coronavirus pandemic has left the 110-year-old cash-strapped, also volunteer-run venue on the brink of demise.
The Chorley Amateur Dramatic and Operatic Society, which runs the popular Dole Lane theatre, is pinning its hopes on a public funding appeal.
Dennis Yardley Chairman of Trustees of Preston Little Theatre and Allan Green of Preston Drama Club, with the ghost light at Preston Playhouse
A fundraising mission is halfway to its £10,000 target, and theatre bosses are hoping the donations continue to roll in.
It is a similar story for many of the county's historic and treasured venues, including the likes of the Grade II Grand Theatre in Blackpool and The Dukes in Lancaster.
In the Ribble Valley, The Palace Cinema at Longridge will not reopen its doors until much later this year – if not 2021.
Operations director at Chorley Theatre, Ian Robinson, said: "We don't know when we're going to open but we still have bills to pay.
"We need help to get through this and don't know how long it's going to last."
The hope for now is some income can be generated from showing films as cinemas reopen. There is optimism for pantomime season too.
Panto tickets are selling well, but Ian explained: "The panto involves 50 to 100 people working together. We have to plan week by week and see what goes on.
"The panto is vital for us. We've sold a lot of tickets for the panto. If it can't go on it will be a big blow for us.
"There's just a lot of uncertainty."
Karen O'Neill , who is chief executive at Lancaster's Duke Theatre, echoes those sentiments.
There, bosses hope to re-establish their independent cinema by the end of July.
She says: "It will be a very different experience from what people are used to, but the main thing is to keep people safe. However, our capacity has fallen from 300 to 26.
"What we have from the Government is a bit of a road map but not a clear time frame. That leaves what is already a very challenging situation even more difficult.
"The Arts Council has been fantastic, but what we need to see is some clear package of support from Government centrally and locally in recognition of what our theatres' contribute socially and economically to our areas, in bringing people in and engaging them.
"We're still waiting for definitives, which is very hard to manage and plan for.
"We've adapted digitally and are engaging audiences in different ways, which has shown some fantastic creativity from our Dukebox to masterclasses and workshops.
"Our outreach programmes have been running too, which is so important so we want to ensure the theatre survives this."
Lara Hewitt at The Palace in Longridge says reopening would be 'catastrophic' for its finances.
With staff having already left to find new jobs, Lara has called this the "Palace slumber".
Rather than celebrating its third year in operation, the cinema will be shut until further notice.
But Lara is remaining optimistic and will use the time for a planned film project, The Palace Diaries, which is hoped will be supported with a crowdfunding campaign.
She adds: "It's been tough. We have a great team and it's just devastating, but it is out of our hands.
"The film does give something for us to look forward to and was always in the pipeline.
"The aim is to hopefully start shooting by the autumn. It is a massive amount of work but it is about diversifying and creating new opportunities for the cinema.
"In the meantime we need to keep safe and make sure we keep this virus away."