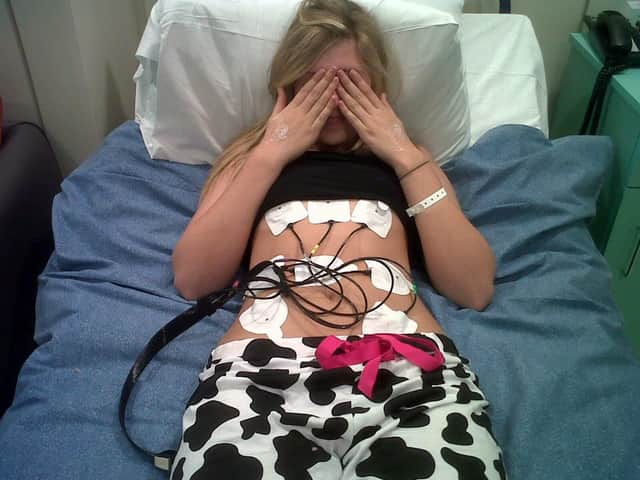 Beth has lived with her chronic illness from aged 12.
The 23 year old NHS worker, from Preston, had her 'childhood taken away' when she was diagnosed with Gastroparesis, a condition that consists of weak muscular contractions of the stomach.
Beth has to struggle through up to eight episodes of vomiting every day despite looking fit and healthy on the outside and is now using her experience to inspire and support others with invisible illnesses.
She said: "I got sick when I was very young and had to deal with such adversity throughout my years of growing up. The most frustrating thing about it is I look healthy on the outside, so I have had to cope with people not believing that I am sick throughout my whole childhood and it's hard for doctors to realise how sick you actually are when you look fine on the outside.
"My stomach is 100 percent paralysed, meaning I can vomit up to eight times a day and there's no stopping it. It damages my teeth and is so difficult to deal with. I have to use disabled toilets as my condition means I can't wait in a queue and have been faced with a lot of incidents where the public have shouted at me and embarrassed me when I came out of the disabled toilet.
"There's been a lot of tears over the years. People can be really nasty because they don't think that someone that looks as normal as me is disabled or should be using the disabled toilet. Now I am older and have come to the reality about my life, I want to try and help other people feel more positive about their experiences and prepare to help them because when I was younger, I didn't really have anyone to ask for advice."
Living from day to day is far from an easy task for Beth, who uses a feeding tube to make sure her medication and vital nutrients bypasses her stomach to keep her alive.
And she is still too scared to use her disabled badge in public for fear of being singled out or shouted at by members of the public.
Beth uses her instagram and youtube channels to document her experience living with her invisible illness.
Now, determined to make a change and inspire others, the 23 year old used the Coronavirus lockdown to focus on her campaign 'Project Invisible #BEKIND', that saw 25 people from across the globe living with chronic illnesses come together in an inspiring Youtube video.
Sharing their own raw experiences in an honest cameo, the video aims to raise awareness of what it is like living with an invisible illness.
She said: "Social media wasn't the same when I was younger as it is now, so I wanted to start off with an Instagram page to begin spreading awareness of the condition. It has meant I have connected with a massive community worldwide. It is so nice because I realised that so many people have lived with the same struggle as me.
"People have been able to ask me questions and tell me about their own experiences and it is amazing to give my knowledge on to other people. Nowadays, I find social media can be damaging and really impact people's mental health because it can be very false. A lot of people that have chronic illnesses have scars and they are too ashamed to show them because they don't look how social media tells them they should look."
On the outside, Beth worries that people would not know she lives with her disability.
"So many people don't look sick but they are secretly battling with their own illness. I want to spread the message that society needs to stop being so judgemental and change their mindset on what being disabled is or looks like."