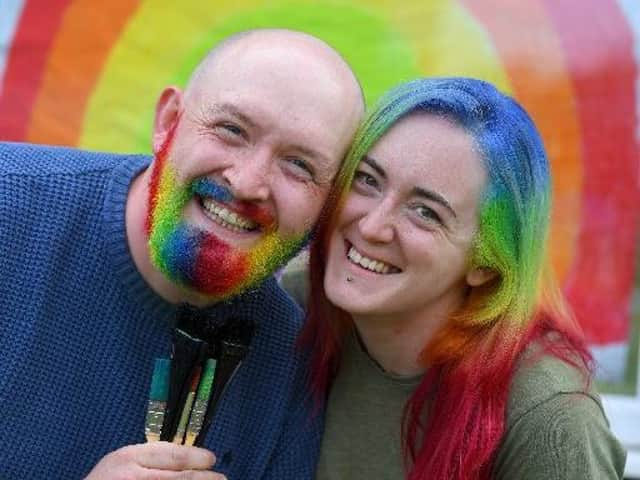 Jason Overell and wife Heather
Lorry driver Jason Overell has gone one better.
He has had his beard dyed the colours of a rainbow in tribute to his wife Heather who works for the NHS,
Jason, aged 31, of Hesketh Bank, near Preston, works for a haulage firm and is still working delivering vital goods around the region and beyond.
But he also respects the work of his wife Heather, who is an assistant theatre practitioner working at both the Royal Preston Hospital and Chorley and District Hospital.
He decided to have his beard dyed different colours to represent a rainbow - to match Heather's hair.
Now he has set up a fund-raising appeal for NHS charities via his Facebook page and a Justgiving page.
Jason said: "It's not permanent - It will come out.
"It took about an hour and a half in total.
"I wanted to do something to pay tribute to the work that my wife and others like her do every day.
"Quite a few other relatives have worked in the health sector so I suppose it's in my blood."
Jason added: "I am hoping to brighten people's day when they see my colourful beard.
"Even giving people a laugh in these dark times is a step back to normality."
He set himself a modest target for £100 but has already raised more than double that.
https://www.justgiving.com/fundraising/undefined-undefined12