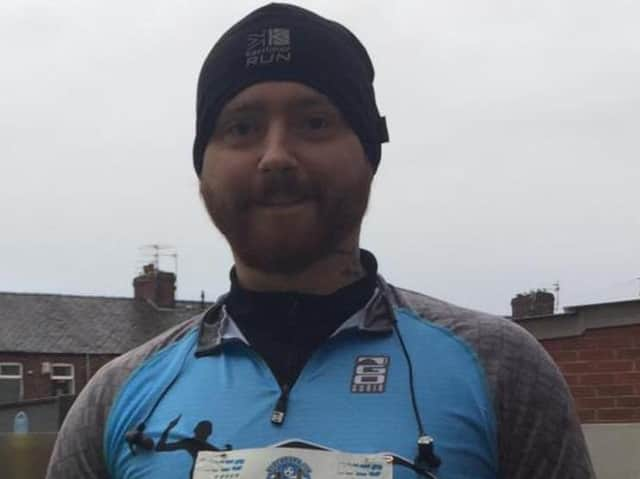 Dale Smith has been helping Stuart and partner Caroline with home developments
He entered the Outlaw X Half Iron Man triathlon to raise funds through sponsorships for Caroline, to enable her to give up the hospital bed and spend quality time at home with husband Stuart.
Dale, also from Preston, is part of a charity called Band of Builders and director of Ribble Valley Flooring, so decided to take matters into his own hands and help with the extension and developments needed on their family home.
He said: "I used to live nearby to Stuart and his wife and I saw that he was trying to raise money for the amendments he needed on their home.
Dale will be completing his triathlon on September 27.
"They now need the bed and the hoist for Caroline as she is bed bound because of her condition. This is why I have booked the half iron man distance triathlon in four weeks time, to be able to raise them some money and help them get the funds they need.
"I was happy to help out but didn't realise how bad Stuart and Caroline's situation was at first and how much care he provides for her. Many of my friends from the band of builders have helped with other jobs, such as tiling and all mucked in and done what they can, but now she needs special equipment so that she can have a special bed and a bath hoist fitted."
Caroline Manning, from Bamber Bridge, was diagnosed with a severe form of MS that means she lives life bed-bound and unable to use her arms.
As part of the fundraising, husband Stuart has been raising £30,000 to create a downstairs bedroom and bathroom in their home, after being told they were not eligible for any form of Government funding because he was still working.
Stuart and Caroline on their wedding day, 2007.
While she was in hospital fighting a serious infection, South Ribble Borough Council rejected the couple's application for a disability grant to fund their home amendments, being told they could afford them on their own.
Their ex-neighbour and now close friend Dale is no stranger to helping others out, after previously learning to swim to raise money for a close friend with Morgellons disease.
He said: "Between all this I have been getting as much training in as I can for the triathlon. I think from all this support, Stuart has been surprised at how many people have reached out to help him. I think he has gone from feeling stuck to now feeling like he has a lot of support. It is important that he has that.
"Caroline is a lovely person and really needs all the help she can get to enable her to live a better quality of life. If people could support me and all work together, we can all make a difference for this family."
Dale will need to swim, cycle and run as part of the triathlon next month.
September 27 will see Dale take off on the physical challenge, that will see him run, swim and cycle to raise money for Stuart and his wife Caroline.
Stuart Manning, 47, has been caring for his wife whilst working during the pandemic. When the pair married back in 2007, she could only walk up the aisle with assistance.
More than a decade after her diagnosis, she is completely reliant on a wheelchair.
IT worker Stuart said: "We started off with the fundraising idea when we realised we wouldn't get any assistance from the government. We have been helped by so many people in big ways. We have received financial donations and had friends and their outside connections in the building trade helping us out.
Stuart now provides care for wife Caroline, who is bed bound and needs home adjustments.
"We had a lot of assistance with friends sending teams of people to help with the costs where they could. It's been wonderful to have so many people have come out of the woodwork asking how they could help and offering support. Dale came forward and offered to help us and has brought his links to the building trade, he's assisted with plastering and has been calling in regularly to offer his help where he can.
"It is such a massive help and feels like I am not quite as much on my own with it. With him coming forward, I now have someone I can always call for advice and someone who I can speak to when I need it. I can tell him when I'm struggling and finding it difficult. It's given me the drive to remember to give myself a break sometimes too."
Applying for financial support from the Government included a financial assessment that Stuart claims is 'unfair' - as it didn't ask about his outgoings or take into account the cost of equipment he has already bought for wife Caroline.
The past year has been one of the worst for the couple, with Caroline being admitted to hospital eight or nine times because of a kidney infection and sepsis.
"The financial assessment is very unfair. We've already had to purchase a lot of equipment and make developments on our home, but because I still work its very frustrating and makes me think the system just doesn't make sense," said Stuart.
"We could not have got those funds raised and without the help of other people, there was no other method of getting money. It is such a wrong system as the eligibility for disabled equipment criteria is old fashioned and hasn't been looked into for years. It is an unfair system especially for those who want to work. It makes you think, who's the real fool in all of this?"
Caroline's secondary MS diagnosis means she is now completely reliant on a wheelchair and needs 24/7 care. Her other symptoms include fatigue, short-term memory loss and difficulties co-coordinating her limbs.
It is now just four weeks until Dale puts his physical training to use and partakes in the triathlon. Donations can be made to their GoFundMe page