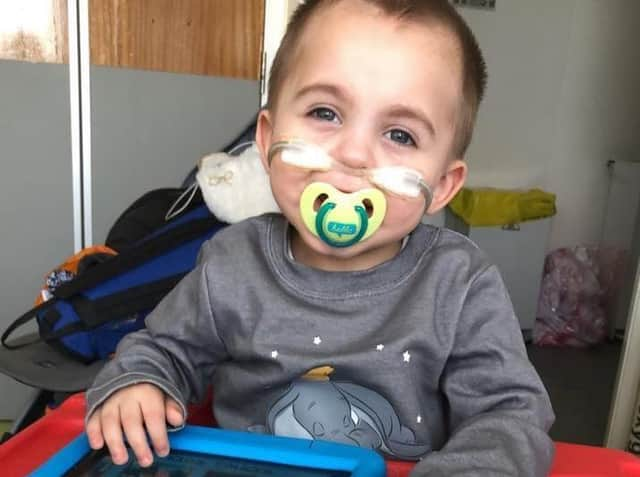 Two year old Matthew suffers with chronic lung disease
Born premature at 30 weeks, two-year old Matthew Watson was incubated from birth, suffering two bleeds to the brain and severe scarring to his lungs.
After his eight-week neonatal stay at Royal Preston Hospital, he was transferred to Manchester's Children Neonatal ward for a major operation.
Parents Jasmine Lovatt, 26 and John Watson, 28, from Ingol, are now crowdfunding to raise enough money to buy two pieces of essential equipment that isn't supplied by the NHS.
Jasmine with son Matthew.
Spot check and overnight oximeters would give the family the chance to monitor Matthew's oxygen levels regularly and provide the readings to the hospital, but they come at a cost of between £600 and £1,000.
"We have been told that there is no clinical need for him to have these monitors supplied to us, which is ridiculous. We have tried three times to get him off the oxygen and failed," said Jasmine.
"He relapses and becomes tired and floppy, struggling to eat and walk. In April, bringing him off the oxygen caused his lung to collapse, which isn't the first time that has happened.
"This impacts us as a family both emotionally and financially."
The live-saving oxygen canisters that Jasmine and partner John carry on their backs.
Jasmine and John, who also have two other children, Bethany and Thomas, worry that the constant trips to Preston Royal Hospital for Matthew must feel "like a rollercoaster" to them, as weeks are often spent away from home as a family.
They also fear that the hospital visits are causing a destructive impact on Matthew's development, as he turns three at the end of this month, on June 30.
The original monitor they had, which enabled the family to check Matthew's turbulent oxygen saturation levels, is unable to be fixed as it is no longer covered under its 24-month warranty. They have been left with no other option but to attempt to use crowdfunding to afford a new one.
"This has all massively impacted his development and him being able to reach his milestones. He has a left sided weakness that also impacts him being able to run and play with other children," said Jasmine.
Matthew was incubated as a newborn baby.
"The monitors we need are so expensive, even costing around £1,000 for a second-hand overnight monitor, which is very expensive for a family with three children.
"I have told my consultant that we need this equipment for my sons health but they haven't been able to offer us anything. It's frustrating because I have seen people from different hospitals being given them for the same conditions my son has.
"It's unfortunate that I have had to go and do my own crowd funding, because it doesn't consider the travel expenses to the hospitals and buying food, which isn't supplied to the family. It all adds up because we need to try and reserve money to buy the different equipments he needs."
Support has overwhelmed the family so far, who have now hit their original £600 mile stone, meaning they can purchase the spot check oximeter, just one part of the vital equipments Matthew needs.
Jasmine, who's younger brother sadly passed away at two years old, has now increased the target to £1,000, so she and partner John can buy the overnight monitor and a pram, which would carry the heavy oxygen canisters.
"We need a special pushchair to carry the oxygen which is heavy and causes pain. It puts strain on the pram, meaning we have to buy new ones multiple times a year," she said.
"Going down a kerb on an unstable pram is very dangerous, but he's classed as being too healthy for an adapted pram to be provided to us, so we found one that has a side basket for the oxygen cylinders to sit inside."
A spokesperson from the Lancashire Teaching Hospitals NHS Foundation Trust, on behalf of Royal Preston Hospital, said: "Our staff work closely with families to ensure that they have the right equipment to meet their health needs.
"If any patient or their family has concerns that this is not the case we would strongly encourage them to get in touch with our Patient Advice and Liaison (PALS) service who would ensure that the matter was fully explored on their behalf.​"
You can donate to the cause and read Matthew's story on the Go Fund Me page at gf.me/u/x5pk34