"Communities and their people need us," award-winning community cinema project has plans to grow in Lancashire
The 'Metamorphosis open cinema' project is planning on spreading in Lancashire after the coronavirus lockdown.
Friday, 1st May 2020, 12:30 pm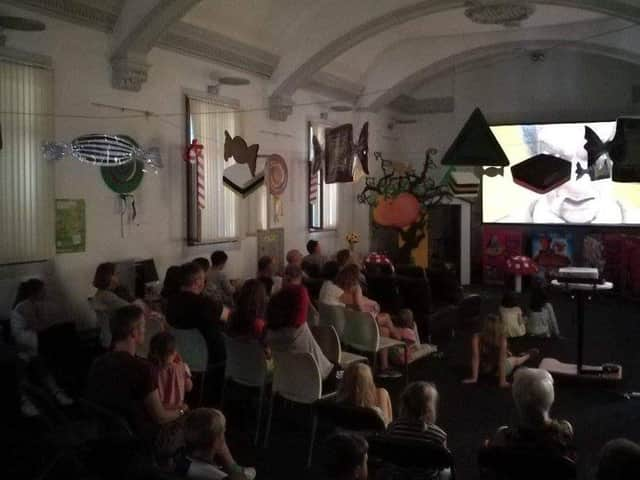 The community cinema project at Lancaster library.
David Mcloughlin, who lives in Chorley, set up the scheme in 2015 whilst suffering with loneliness after leaving rehab for a 30 year addiction to alcohol and drugs.
He wanted to support those in the community who were suffering with isolation and battling their mental health issues by offering a free, weekly film screening at Lancaster library.
Once lockdown restrictions are lifted, he plans to bring the scheme to libraries and community centres across Lancashire to continue his support to those who live with feelings of loneliness and isolation in the community.
David Mcloughlin receiving his certificate at the Film Society Awards.
"After I left rehab, boredom kicked in very quickly. It became apparent that there wasn't much for people to do if they were lonely and felt like they had nobody," said David, 50.
"Along with some other friends who had gone through rehabilitation with me, it became that something had to be done to keep us busy because we feared that we could have relapsed.
"At first, the project was set up to support those who had been in an unhealthy relationship with alcohol and drugs but, it soon became apparent that older members of the community were living alone and struggling with isolation."
Lancashire County Council gave David a space in Lancaster library that was large enough to host up to 50 people. The scheme attracts over 30 people from the community for weekly film showings.
The project has proven such a success in Lancaster, that David was given the 'Outstanding contribution by an individual' award by the Film Society Awards in 2017.
He now hopes that the popular scheme can catch on across Lancashire to continue helping those living alone after lockdown.
"It has really grown over the last five years and has become apparent that the majority of our visitors are older members of society who might feel as though they have no one else," he said.
"Now, in lockdown, it makes me choke up thinking about some of the people who rely on us that are living on their own.
"It really hits home that these people don't have anyone. Communities and their people need us. A project like this desperately needs to become more widespread."
The project are running a campaign '#nevermoreneeded' on their Twitter page, which aims to reflect the importance of their social project on isolated members of the community.
Information about the scheme and their plans for after lockdown can be found at their Facebook page: facebook.com/opencinemalancashire.