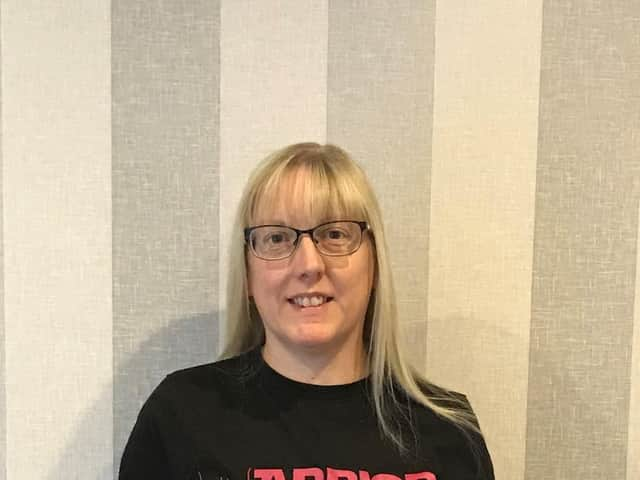 Emma Ryan
The Preston Race for Life was among 400 mass participation events which organisers Cancer Research UK cancelled this year to protect the country's health during the Covid-19 outbreak.
The charity is expecting a £160m drop in income in the year ahead, with a £44m cut to life-saving research funding already.
Now to help tackle the devastating loss, undeterred women and men are vowing to raise funds by completing their own Race for Life 5K in their nearest green space on Saturday September 26.
They plan to take part outdoors either alone or in small, socially distanced groups - but all on the same day - to help people with cancer. Supporters can visit raceforlife.org and sign up free for a 'Very 2020 Race for Life.'
Mum-of-three Emma Ryan, from Walton-le-Dale, saw her GP in 2010 after finding a lump in her right breast.
Emma, who is married to husband Philip and has a son Adam and daughters Leah and Bethany, was referred to Chorley Hospital where she had a mammogram, biopsy, ultra sound and cells removed from her breast with a needle.
At the age of 32 she was devastated to be diagnosed with breast cancer and given a 65 per cent chance of survival.Further tests showed Emma had a less common type of breast cancer – called triple negative.
She faced a ten-hour operation during which surgeons removed her right breast and surrounding lymph nodes and then reconstructed her breast. This was followed by five months of chemotherapy and five weeks of radiotherapy at the Rosemere Cancer Centre in Preston.
Emma, now aged 42, made a good recovery. This year she is celebrating an amazing mile-stone of a decade of being cancer free.
Emma, who works as a print finisher for her dad's company as well as in a school kitchen, said: "I count myself as one of the lucky ones as my treatment has been successful. But it was still a very tough period of my life and a shock.
"It upset me to hear that vital cancer research has been delayed this year. Now as lockdown eases, I hope people will want to put something back. I want to reach out to people going through cancer right now, to show that while we may all still be apart, we can unite with a common goal to fund life-saving research."
Cancer Research UK's Race for Life, in partnership with Tesco, is an inspiring series of 5K, 10K, Pretty Muddy and Pretty Muddy Kids events which raise millions of pounds every year to help beat cancer by funding crucial research.
Thanks to the generosity of people across the North West, Race for Life participants last year raised £2m to support vital research to develop gentler and more effective treatments for cancer – a disease that will affect one-in-two people in the UK at some stage in their lives.
A live broadcast on the Cancer Research UK Race for Life Facebook page at 9.30am on Saturday, September 26 will include an energiser from a fitness expert, as well as inspirational messages of support from people who have been through cancer. Participants are then free to set off on their own Race for Life.
Visit raceforlife.org or call 0300 123 0770. Join in and share with #Very2020RaceForLife