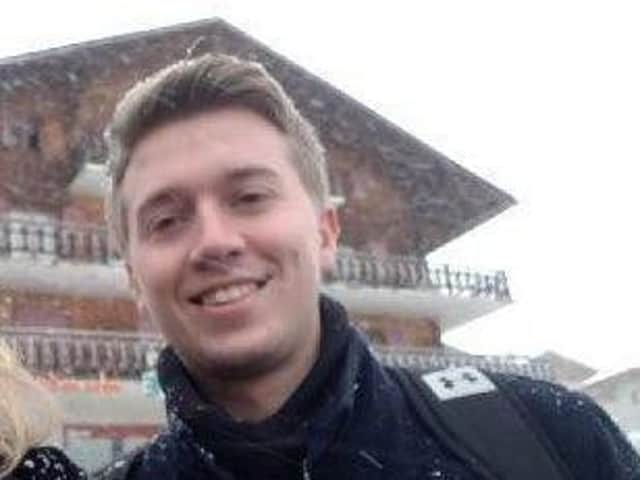 Sam Pegram
You can read more here"Sam was a kind, compassionate young man who always put others' needs before himself. He had a genuine warmth about him and he was dearly loved by family, friends and colleagues from all over the world.
"He gained a BA in International Relations at Leeds University and the more he learned about the suffering in the aftermath of the Arab Spring the more determined he became to do something about it.
"After graduating he went to Amman, Jordan to volunteer for a grassroots NGO Humanitarian Family Aid working directly supporting refugee families.
"After 6 months of this unpaid self-funded internship he went on to secure paid work in the Humanitarian sector and stayed in Amman for 2 years overall, working for other organisations and all the time still volunteering when he could with HFA.
"Sam returned to the UK, winning a scholarship and completing an LLM in International Human Rights Law at York University, where he also carried on volunteering for Refugee Action York. He went on to win a highly competitive application process to join the Norwegian Refugee Council as a Policy research intern.
"He started in January 2019 and we had the privilege of joining him in Geneva in March.
"We left just a few short days before his trip to Nairobi. He was so excited about the upcoming trip and the opportunity he had been given.
"Sam earned himself many tributes for his passion, hard work, intelligence and commitment to the humanitarian cause both while studying and working in the field. We have also heard from so many sources as to what a joy he was to work with, bringing a sense of community and positive team morale, organising social events, always bringing people together and making people smile and laugh.
"He was so humble, he never bragged about his work, he just got on with it, doing what he considered the right thing to do. We were and still are so proud of him. He should still be with us, making people happy and making the world a better place. As the CEO of Generations for Peace told us "the World needs more Sams".
"I do not consider myself to be an "expert witness", despite being a qualified software engineer and someone who worked in the Aerospace and Defence industry for over 20 years. I understand safety, and safety by design principles. I have also worked extensively in the field of corporate governance and risk management. I see so many wrongs in what happened at both Boeing and the FAA.
"Michael Stumo has put together a comprehensive submission on behalf of the ET302 families and I fully support Michael's submission. I also welcome the fact that the committee have now allowed Michael to address them in person at the hearing.
"What I am is a witness to the unbearable suffering caused by these crashes, from a deeply personal point of view, the effect on my remaining close family, Sam's many friends and colleagues and the other families with whom we share this sense of loss.
"It is so important to us that the tragic loss of 346 lives in 2 separate incidents with the same underlying cause, provides real change and that the families' views are heard. Boeing have not admitted liability for the 2 crashes and the FAA have not volunteered anything that they would have done differently. We simply cannot rely on Boeing and the FAA to put their own operations right without oversight and legal obligations.
"Having gone through the heartbreak of losing my son, I will do all that I can to ensure real change in the governance and safety of design, testing, certification and production of aircraft happens so that other families, including your own children and grandchildren are not lost in similar circumstances.
"Sam put other people first, please put the lives of future air passengers ahead of other considerations. Putting safety first is a moral obligation, not an empty soundbite to be stated after the fact of a preventable tragedy."