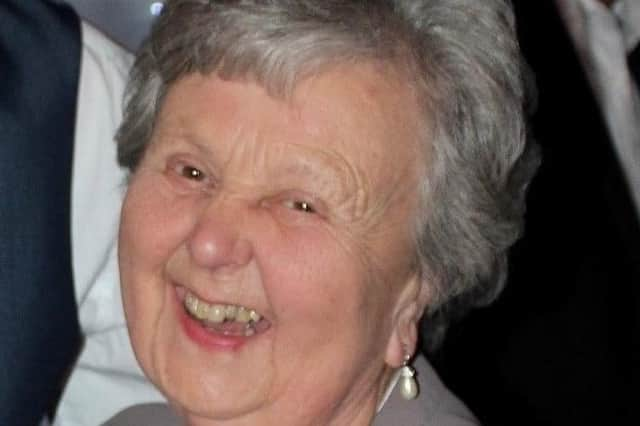 Margaret Walmsley (1941-2021)
Margaret Walmsley, 79, passed away on February 13 and her family has invited friends to pay their respects on her final journey through the town.
Well-known to many, Margaret is said to have 'always had a listening ear for anyone' and was 'always chatting'. Her family say that Margaret will be 'sorely' missed but that 'special memories' will be 'held in their hearts forever'.
Margaret was married to local blacksmith Austin Walmsley who ran the family business until his retirement four years ago.
Their son and grandson now head the business which has been running since 1901.
Margaret previously worked at her brother's shop at Bonds and Scorton and also worked at Singleton's Bakery. She was a keen gardener and spent many happy days in the garden.
One of Margaret's daughters, Angela McVey, described her as a 'very kind and friendly lady'.
"She always had time for other people," Angela said,
"She lived in Garstang since 1962 when she married my dad, Austin, and they had a house on the High Street."
Angela says her mother would take almost an hour to buy a loaf of bread because she would spend lots of time talking to everybody.
"People always wanted to talk to her and confide in her," Angela said.
"She was a very family-oriented lady, it was her main goal in life to have a family and she had three children, eight grandchildren and now seven great-grandchildren.
"Everybody would go over to her house all the time to see her and my dad. That's what we will always remember.
"At Christmas she had 18 to 20 people and a weekend would never go by without a family member going to see her or meet up with her."
Current Coronavirus restrictions mean that a maximum of 30 people can attend a funeral and up to six people can attend stone setting ceremonies, the scattering of ashes or a wake.
Because of the restrictions, Margaret's family have invited friends and acquaintances to pay their respects during her final journey through Garstang.
The funeral cortège will start its journey down Garstang High Street and onto Bridge Street at approximately 10.45 am on Monday (March 1).
Greg Hodgkinson, funeral director, will walk Margaret's hearse across the River Wyre Bridge and pause briefly to allow Cornmill Nursing & Residential Care Home staff and residents to pay their respects.