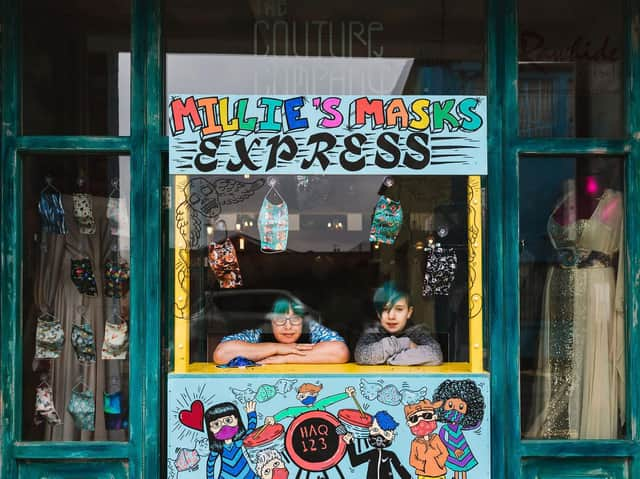 11 year old Millie and mum, Jo.
Millie's Masks was kickstarted in March, when 11-year-old Millie made a reusable face mask as a home project whilst her school was closed at the start of the pandemic.
After mum Jo posted a photo of the printed mask to Facebook, people's interest in the business began to grow.
Since their launch, Millie's Masks has now donated 1,600 gifted masks and has raised £10,000 for charities and good causes, with local charities in Preston set to benefit from the ethos of giving away 20 percent of the profits.
Millie at work sewing her cotton masks together.
Mum and business partner Jo said: "She wanted to make masks that not only keep you and others safe but also allowed you to express your individual style, all whilst donating 20 percent of profits to charities and good causes.
"Millie's Masks also offer a 'pay it forward' initiative where you have the option to buy and gift plain cotton face masks that are then hand made in bulk and sent to places that need them most such as care homes, NHS workers, people who maybe cannot afford to buy masks and people in real need."
Since opening in Preston's popular market hall, the shop has been a success - featuring on local BBC Radio, The Telegraph, The Times, and making an appearance on ITV national news.
Founder Millie, from Birmingham, will have her northern stall run by Jo's friends and volunteers who have been severely impacted by the Covid-19 pandemic.
Millie's new mask stall at Preston's outdoor market.
"The success of Millie's Masks got me thinking that I could help my friend out by setting up a Millie's Mask stall on Preston Market. Not only will this help Karl with work but will also raise funds for Preston charities," said mum Jo.
"It also means that the good people of Preston get to wear some funky masks so it really a win win story. Millies masks are funky and fresh, they are washable and re-usable and are made from 100 percent cotton, so they are economical and kind to the environment.
"There is going to be a wide range of designs available to choose from, from unicorns and skulls, to animals and sweets, so there is a design for everyone."
For those who are less adventurous, the stall offers a range of plain colours, along with a three layer deluxe mask with a filter pocket, and mask holders to make them more comfortable for people who wear them for long periods of time.
Millie is giving 20 percent of profits to Preston charities and causes.
Jo said: "Above everything in this great adventure, we have been able to take on friends who are out of work because of the virus, giving them the opportunity to earn some money to pay bills.
"Others have come onboard because it was good for their mental health as well as earning some money. Some have volunteered their time for free, and their equivalent earnings have been dedicated to a charity of their choice."