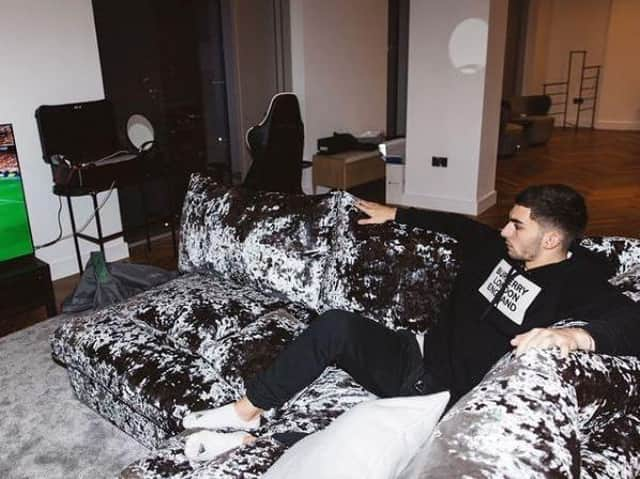 Ferran Torres (credit @ferrantorres7 Insta)
It was a picture of Ferran Torres, a young Spanish professional footballer who recently moved to Manchester City from his hometown club of Valencia.
Here was a young man with the world at his feet. Employed by one of the world's biggest sporting entities and one of the brightest talents Spain - a country to football what Switzerland is to watchmaking - has, his weekly wage amounts to something in the tens of thousands of pounds.
But the picture was tragic.
In a city-centre apartment bursting at the seams with the kind of square-footage that a 20-year-old simply does not have the first clue what to do with, Ferran sits desolately on a sofa so silver, gaudy, and garish only a footballer could voluntarily purchase it. Next to him is what looks like an errant bed pillow masquerading as a sofa cushion.
The rug under the couch is Manchester-sky grey and in the worryingly austere background is the discarded box for a PS5, a solo gaming kit designed for swift pack-up-and-go, and a gaming chair that probably cost more than my house.
The chair is aimed pensively towards the window overlooking the dark, streetlight-dappled cityscape.
Does Ferran, this mind-bendingly talented athlete reared on the sun-dappled streets of Valencia where colourful characters pelt one another with ruby red tomatoes and eat variegated paella, sit there of an evening, his bank account swelling, and stare out over this foreign place dreaming of home?
Does he actually sit in those chairs (grey, naturally) in the background which look like they've been stolen from the lobby of a law firm?
"No day without football! Following the Premier League on TV!" reads Ferran's peppy caption to his 400,000 followers. But young Ferran's expression is dead, a stoney look etched across his features as if his mind is far, far away.
Maybe he is; a raft of commenters, having gleefully zoomed in on the visible sliver of TV screen, insist he's watching Valencia at their home ground of Mestalla.
I want to help Ferran, to buy him a ficus and tell him everything will be fine. I want to show him the deals on art prints and picture frames he can get. I want to turn his main light off and buy him a lamp. To teach him the ways of the spider plant and the monstera deliciosa.
Because you can't tell me this picture wasn't a cry for help.