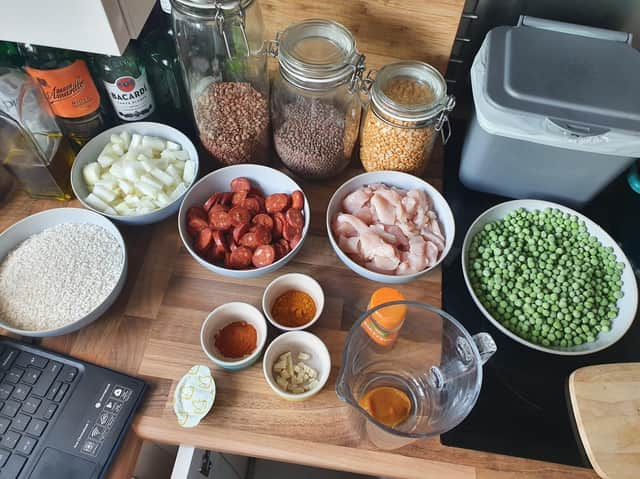 Cooking paella
For a country with a neutral if not downright negative reputation when it comes to culinary exploits, we do hearty very well. Rich stews and thick-crusted pies, thick slabs of meat coated in gravy so viscous it could be Golden Syrup. Scones with clotted cream, dense bacon crisped up alongside squat sausages. Tell me that doesn't sound amazing.
Cooking has taken off for me during lockdown. While I haven't ventured far into the terrifyingly precise world of baking save for an attempt at a chocolate cake which I fear has given me diabetes, it's all been about the savory. Beef bourguignon. Chicken biryani. Creamy carbonara. Paella with - forgive me, Spaniards - chicken and chorizo.
And all of this has been happily accompanied by a new-found lockdown secret: M&S garlic bread. A brand new food hall of theirs opened near me recently, which has been both brilliant and terrible. Brilliant because I have found possibly the greatest garlic bread known to our species and terrible because if I continue to casually drop £40 on biscuits, bacon, and premium spaghetti every time I wander in, I will soon be destitute.
Lockdown has also been a time for snacking, the kitchen beckoning every 20 minutes, the biscuit tin somehow emerging every time a fresh cuppa is brewed. Perfectly normal. But, just like the M&S, deadly, too. Treats are now everyday occurrences. The concept of not having flapjack after lunch is now as abhorrent as licking the handrails on public transport.
But speaking of treats, one thing has become dangerously normal for me in lockdown. Two year ago, I became a vegetarian and for about 18 months, I was as strict as a monk. Then a farm shop fry-up broke me in a whirlwind of black pudding and shame. I admirably reaffirmed my commitment to the veggie lifestyle at the beginning of this year.
But lockdown has broken me once again. Steaks are a thing again. Sausage stocks are plentiful, as is my guilt and silent acceptance that my indulgence can't last forever. But this is a global lockdown. A (hopefully) once-in-a-lifetime, society-shattering event. Have that burger. Just don't get used to it.