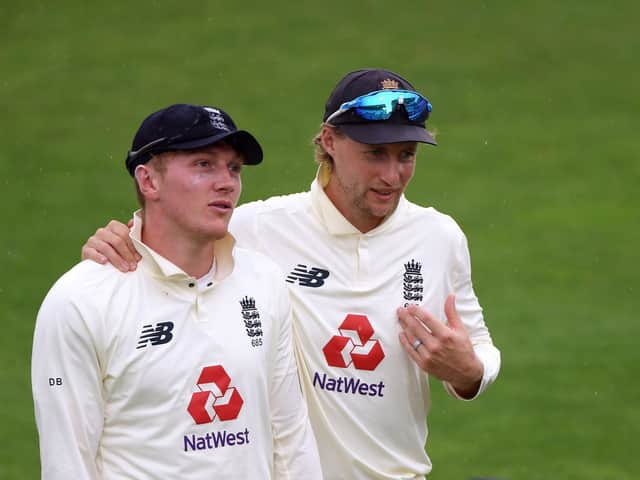 Joe Root (right) with Dom Bess (Credit: Stu Forster NMC Pool PA Wire)
Your alarm goes off at a ridiculous time, but it's all excitement. Every movement feels scandalous - 'it's the middle of the night', the furniture seems to say - as you tiptoe downstairs and flick on the telly. It bathes the room in a lurid glow. You shuffle off to the kettle.
This was me last Thursday. Sri Lanka v England, day one from Galle. Due to the pandemic, the pundits are covering the action from their spare rooms here in the UK, so we're all in the same boat. It's revealed that David 'Bumble' Lloyd is a staunch Lancastrian who will drink nothing but Yorkshire Tea, just like my late granddad.
The metronomic beat of cricket finds its stride. The broadcasters zoom in on Sri Lanka coach Mickey Arthur, who's wearing sordidly tight shorts. They do it again. And again. By the end of the day, the shorts have their own Twitter handle because of course they do.
Volume low, being awake to hear the central heating splutter into action like a sailor struggling out of a hammock is slightly spellbinding. Outside, snow falls quietly while the subcontinental warmth practically bleeds out the TV. Rain interrupts proceedings, but it's okay because Australia v India is on the other channel. More sun and vivid greens.
Debutant Dan Lawrence hits a six so nice he can't help but hold the pose just as the UK sees in 5am. He bumps gloves with his captain Joe Root, sweat slicking their brows. Bumble has to dash away from commentary as the bin-men turn up. He apologises in advance for the upcoming delivery of an axe he's bought because "I've some wood wants choppin'".
Root's 228 is the third-highest score Galle has ever seen in Tests and the Sri Lankans congratulate him as he walks off after being dismissed. It's the weekend now, so a few chocolate Hobnobs (or 'chobnobs' as myself and my brother have christened them) are allowed.
Bumble has lost the shed key.
The pitch is dry and is spinning more than Boris Johnson's press secretary. The threat of a very England-in-the-'90s collapse is averted as we clinch the match on the final morning.
Five early rises and England have sealed the first Test win of the winter a million miles away. Magic.