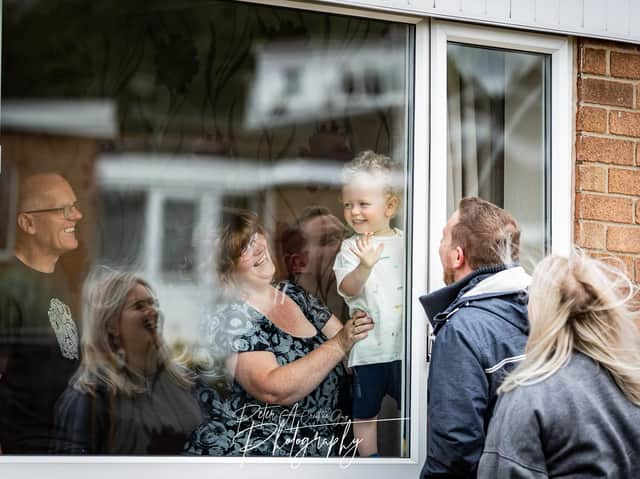 Charlotte and Daniel visit their son, George. Copyright: Pete A Photography
It's the reality of life in lockdown for these two key workers who made the difficult to decision to isolate from their young son, to keep him safe during the coronavirus outbreak.
Charlotte and Daniel Cole, from Kirkham, have left two-year-old George with Charlotte's parents, while she works as a nurse and Daniel as a keyworker data analyst, to minimise any risks to the tot's health.
"This is the longest time we've been without him. I keep trying to block it out and focus on my work because we get upset," said Charlotte, 30.
Charlotte and Daniel visit their son, George. Copyright: Pete A Photography
"We see him through the window, but sometimes that can be harder because then we have to leave him again and he gets upset and confused. It's so hard to walk away."
Through the nature of her work as a care quality nurse for Flightcare, Charlotte frequently comes into contact with care home residents and visitors who have been diagnosed with Covid-19. It has now been five weeks since her or Daniel have hugged their son.
Facetime video calls and frequent meetings through the window have meant the couple have been able to pull through this difficult situation as a family.
"There is a high chance that George could've been exposed to coronavirus so we just didn't want to take the risk," she said.
"It was such a horrible decision to make, but seemed sensible because him and my parents are protected from the outside world.
"With everything that's going on, it's been challenging. Everyone is working so hard to get through it and I'm hopeful knowing there is a light at the end of this dark tunnel."
Photographer Peter Austin, also from Kirkham, is a neighbour, and captured the heart-warming shots after observing Charlotte and Daniel visit their son.
"For me, it was a really special moment for them that sums up, mainly for front line workers, the mood and experience that they're going through," he said.
"The main media narrative focuses on the great work of all our front line workers, but I don't think people always know what happens behind closed doors and at home. I wanted to show how difficult that is for some people.
"I wanted to do it because they're friends of mine, but also because I wanted to give them something that meant they could remember this moment as a family."
The photo has now been submitted to the 'Hold Still' competition, run by the National Portrait Gallery in London, to showcase a collection of photos that reflect the life of the nation during the pandemic.
Headed by the Duchess of Cambridge, Patron of the National Portrait Gallery, the exhibition is a community project, capturing the "spirit, mood, hopes, fears and feelings of the nation" coping through the Coronavirus outbreak.
"They are looking to get a collection of photos together that epitomise the current situation we are all living through, so I entered one of the photos as a record," said Peter.
"Charlotte and Daniel's situation reflected that for me. The anticipation on their son's face was amazing when they came to see him, he was so nervous and excited to see them."
Lockdown restrictions have meant Peter, along with others working in the creative industries, have struggled to keep their workload up.
"I am now working on more personal projects, and have been photographing people that involve being far away," he said.
"In the gig industry, we don't have a reliable income every month. You do photography for the love of it, but the creative industry has fallen off a cliff."
Peter's work can be viewed at his website peteracreativeguyphotography.com.