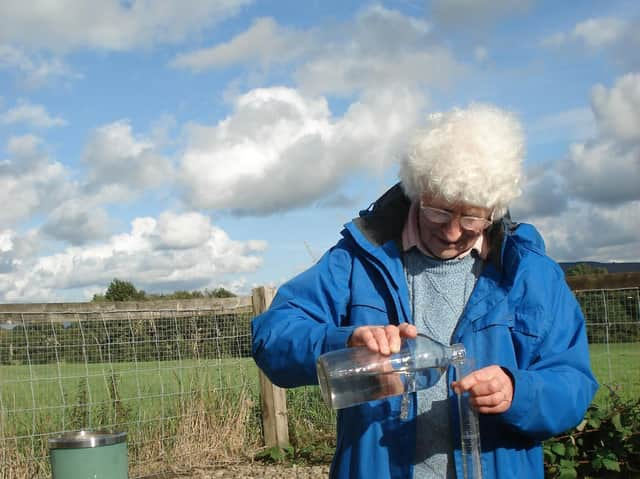 Muriel Lord checks out the latest weather measurements
Weather recorder Muriel Lord said: "Maybe people don't want any more miserable news -- but the last two months have had some remarkable record breaking wet weather in our region."
Daily weather recordings for the Met office began being taken in Chipping, near Longridge, in 1968.
Muriel said: "After a very dry and sunny spring we've had a poor summer so far. July rain total was 266.0mm (10.5 inches approx). This broke the wettest July record, previously held by July 2007. June was also very wet. These two summer months totalled 460.5mm (18.1 inches). There were only seven dry days in all that period."
She continued: "So much rain and cloudiness has cut the warmth we would hope to have in high summer. There was just a brief hot spell (from) June 24th – 26th when temperatures rose above 28C (82F)."
She also speculated that it could become a record breaking year if current trends continue. She said: "The total rain for this year to the end of July is 1095.2mm (43.1 inches approx). Normally our weather turns wetter from the late summer. Perhaps the total for the wettest year will be beaten - 1984.0 mm (78.1 inches) in 2012!"
Muriel is used to taking the longer view on weather and said: "Since 1968 the trend to wetter weather can be detected. Nearly all months have their highest totals in the last 20 years. According to the Met Office ( Meteorological Office) this change is due to global warming, because warmer air holds more moisture. In our region, specially in the hills, we are exposed to the wet west winds coming a long way over the Atlantic. So we are more often shrouded in cloud and rain when places in the east are having sunny days."
She added: "Global warming is often shown as bright hot sun and drought. North west England, indeed all hilly western UK, is affected differently. No sun -- just rain and cloud. (It's a) similar situation in other countries next to huge warming oceans."