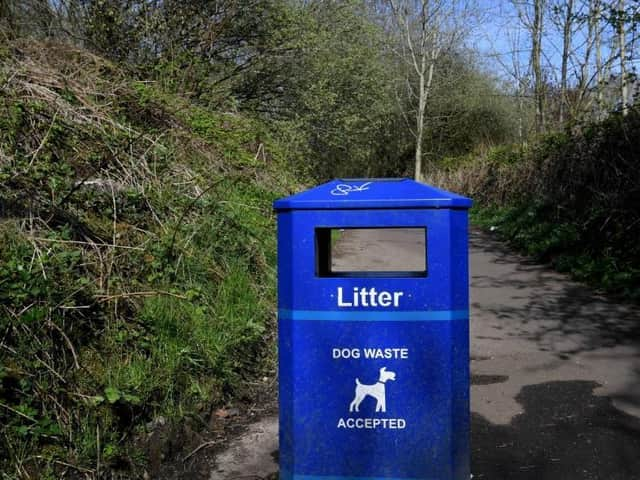 One of the bins just metres away that people are not using
The problem, which has been reported along the Old Tram Road between Bamber Bridge and Avenham, has caused consternation for people exercising during lockdown.
One walker, who asked not to be named, said: "Dog owners are thoughtlessly leaving the poo bags on top or anywhere around the bins, despite the fact there is a bin less than a minutes walk away (pictured)that is emptied regularly."
The sealed-up bins are the property of Lancashire County Council who have redeployed staff who normally empty them to help deliver food and medicine to vulnerable people or are supporting critical services. Other bins in use are owned by South Ribble Council.
One of the sealed-up bins along the route
Lostock Hall Councillor Matthew Trafford said he uses the area to exercise his dog and has noticed the problem.
He said: "There is a problem, but I think it's the minority of dog owners who are leaving their dog waste piled up.
"I understand that a lot of people have set up their own dog poo bag dispensers in the area, made out of old plastic bottles and tied to lamp posts. That's a step in the right direction."
A spokesman for LCC said: "Piling dog waste on top of sealed bins diverts these staff away from helping our most vulnerable people during the current Covid19 emergency.
"The notices on the bins explain why we've had to close them, and we would again appeal to the small number of dog walkers leaving waste behind to please take their waste home or place it in one of the other bins that are still in use in the local area, which are operated by South Ribble Borough Council.
"The waste on top of and around these closed bins will be removed as soon as we can temporarily release staff without having an adverse impact on the support they give to vulnerable residents and critical services."
The area is being developed by South Ribble Council as Central Park - a green spine connecting public areas of green space. Ideas include a public orchard, bike hiring facilities, a skate park, fishing facilities, community allotments and an amphitheatre.
>>>For more on the scheme, click here