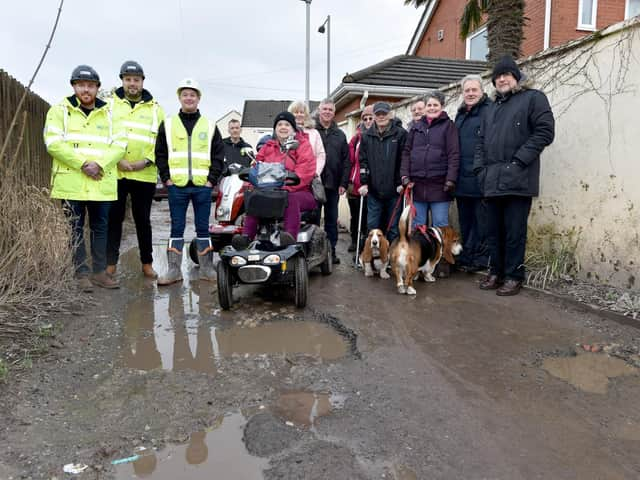 Project Manager Dan Weepman, third from left, and workers from Complete Civil Engineering and Construction with Cottam residents Picture: David Hurst
Builders Lane End say that potholes along a 42metre stretch of pathway in Cottam Lane which leads to Lancaster Canal will be filled by the summer.
Andy Bolton, spokesman for the Cottam Lane Residents group, says they have been trying to get the road fixed for years because it is used regularly by school children and people with disabilities.
"There are severe potholes and it's heavily used by school children," he said.
"The disabled are up and down and we have been trying to get it resurfaced for years and years.
"Lane End Developments are quite unusual in that they do a lot of social housing so they are helping.
"Wherever they build they go into the community and offer help.
"I went to national builders and they weren't interested but as soon as I approached the site manager at Cottam Brickworks they said we had come to the right place.
"The manager came down and had a look.
"They have agreed to carry out the work which is probably in excess of £20,000 so it's no small job.
"We have a Cottam Lane residents group and we are trying to improve Cottam Lane all the way through.
"The council used to maintain it about once a year. They would fill the potholes but now with the constraints with money they've not been able to.
"It's just a job that needs doing once a year.
"These days it's hardly usual that a company puts back into the community.
"This company actually goes out and looks at how they can help the community."
A spokesman from the developers said: "Lane End New Beginnings is a Social Enterprise formulated by the Lane End Group of Companies to give back to the communities in which we build.
"Our aim is to improve the lives of people within these areas by giving them the support to create positive changes in their lives and this is having a positive impact upon the communities in which they live.
"Our Tom Benson Way, Cottam Brickworks site is no different and since arriving in Preston we've been busy working with the local community on an number of initiatives, with this being one of them.
"We heard about the challenges Andy and fellow residents have had to complete the tarmacking of this stretch of path from Canal Bridge to Barry Avenue, and we, along with our sub-contractor, Complete Civils, were more than happy to help."